He's a fourth-generation tattoo artist who works at Hart & Huntington in Las Vegas.
My relatives were in the business way before me. There's been a Reilly tattoo artist since the 1800s, but that's when it was all sailors and carnies.
A lot has changed since then. And that's something he'd tell someone just starting out in the industry.
I hope I could convey and instill my love of the art and the industry. The history of it and where it's come to be today.
Christian was born and raised in New Orleans and spent his childhood tearing around on a dirt bike like all the other kids in his neighborhood. He was never big into tattoos or ever saw himself working as a tattoo artist. But he was always into art.
I entered a TV Guide contest where you had to draw a pirate or turtle and won. The prize was a scholarship, but I was just 7 so they couldn't cash in on that. They sent me a whole box of art supplies so I could continue my practice instead.
He loved drawing cartoons, caricatures...anything he was interested in at the time. Later, he became a skateboarder and joined a team with factory sponsorship and everything.
That's when I became interested in graffiti art. I'd be riding around looking for places to ride my skateboard and write my name.
He kept on drawing, developing his artistic abilities and pushing himself to learn new styles.
But I still wasn't interested in tattooing at all.
Then everything changed, although against Christian's will.
My Uncle Bud owned a tattoo shop in Michigan, the kind that biker and prison guys visited. But it was pretty slow, so much so, my uncle had to work at Ford Motor Co. in the winter to keep the lights on. Anyway, as soon as he found out I could draw, I was forced to work there in the summers when school was out.
Christian's mom was an attorney at the time. His grandma was a doctor. And his father owned a chain of successful dry cleaners.
Uncle Bud didn't meet the criteria for what I saw as 'successful' in comparison. This guy was broke. It wasn't what I envisioned for my life and I was pretty salty about being forced to work there.
But life has a strange way of steering you in the right direction, toward a destiny you may not have initially seen or considered.
Christian later enrolled at Loyola University where he was majoring in Biology, on the Pre-Med track.
I was supposed to go to Tulane after that, but I knew I didn't have the bedside manner to become a physician. I'm kind of a smart ass. I was pretty sure I'd end up in a government laboratory or something like that instead.
He worked part-time at a tattoo shop in New Orleans while he was in school, and that turned out to be an eye-opening experience in more ways than one.
People graduating with my degree at the time were making $40K-50K in their first year in the field. I was making that tattooing, so I dropped out and started doing it full-time. I didn't expect to be able to earn that much having seen Uncle Bud's shop.
Not surprisingly, his mom was furious.
Her gripe wasn't so much that I changed directions, it was that I could have dropped out when I was a freshman. I was a senior, and Loyola isn't cheap. She didn't speak to me for three months after that.
But when Christian came to her for help with his 1099 nine months later, she quickly changed her tune.
Her eyes bugged out her head when I showed her how much I made that year. It was more than she'd earned. I never heard about it from her again after that!
Christian never had a formal apprenticeship. He learned the ropes at his uncle's shop, but more so at his part-time gig in New Orleans.
I didn't have to do any of that nightmare apprenticeship stuff you sometimes hear about, like scrub the toilet with a toothbrush. But I did have to make needles and tubes, draw and paint an 11x18 sheet of flash every week, then make an acetate stencil to go with it. Everything we tattooed at that shop, if it wasn't custom, had to be done from one of those stencils.
That was his biggest challenge by far.
Thinking of original flash art to make every week was so hard. I mean, it was a huge watercolor sheet of completely original ideas, and you couldn't mess up. You'd have to start the whole thing all over again if you did.
It's likely that's what helped Christian master the artform.
I can do a little bit of everything. My portfolio is all over the place, filled with Black & Grey, cartoons, portrait, geometric. I've never limited myself to one style because I've always had to be versatile.
When you get a tattoo from Christian, though, you'll definitely spot some signature qualities.
Regardless of the style, I like my tattoos to be bold and visible from a distance. You should be able to tell what it is 20 ft away and 20 years from now. I focus on creating crisp bold lines and adequately sizing each piece so that it holds up from afar and over time.
It's a level of quality his clients both admire and benefit from.
I did a portrait of a lady's father on her once. She didn't look at it the whole time I was working, but when I was done, she stood up, looked at it and started crying because it looked just like him. She was overcome with emotion. It was really special.
For Christian, a good tattoo should be good in real life.
I have a lot of people come to me with overwhelmingly unrealistic expectations. They usually see something on Pinterest that may look good online, but it doesn't mean it's going to look good on them. I have to break hearts and tell them it won't look good in real life, that it's not something they're going to be satisfied with down the road. When I give someone a tattoo, I want them to be happy with it ten years from now.
The ink he wears on his own body is a testament to that.
None of my tattoos have a story, per se. I got them all on the fly when the shop was slow and one of the other artists had drawn something cool. I didn't even care what the image was, I was just like yeah let's do it. I have a digitized portrait of Captain Kirk that I really love because I'm a big Star Trek fan. I have a stick-and-poke on my calf that's so meticulous, no one can believe it. It's phenomenal.
I got tattoos because I needed tattoos. You don't get a haircut from a bald barber. I felt like I needed to have tattoos to make my clients feel comfortable in my abilities.
Christian's come a long way since that fateful day he was forced to work in his uncle's shop.
I grew to love it. I love working at Hart & Huntington in Vegas. I've worked at all the big shops in Vegas, and they all offered me the same professional corporate environment—but it would always turn into high school and that would turn me off. It's a really cliquey, drama filled town, but that's not the case at H&H.
Image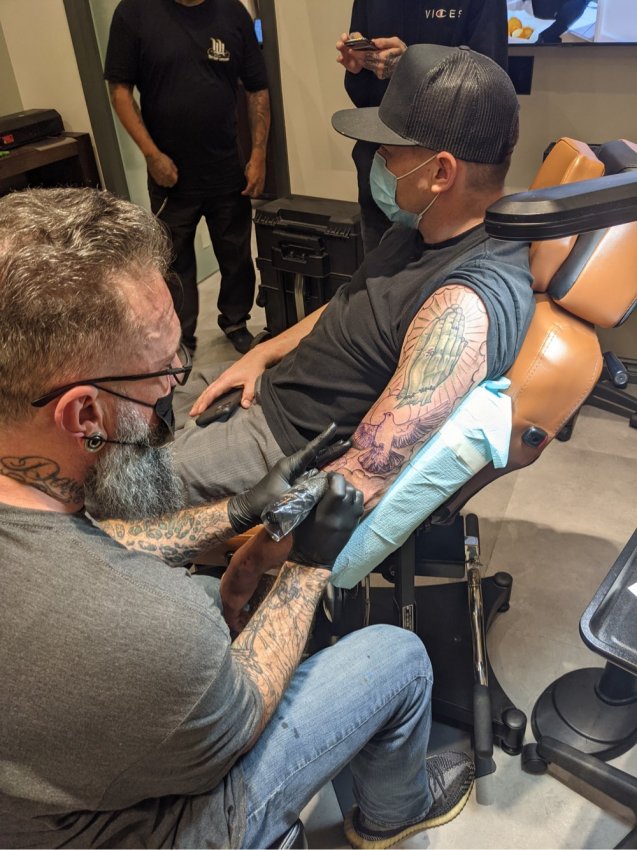 There's no drama or ego here.
Everyone is true to their art and isn't bothered by what anyone else is doing. The artists here congratulate each other when they do great work. They like to see each other excel and be prosperous. That's what I like most: the positive attitude, and the sheer aptitude of the artists here. There are some really talented people working here, and they push me to be better.
Working as an H&H tattoo artist is never monotonous.
Every day is a fresh start and something completely new. Different artwork, different people and personalities, different skin types. It's a great challenge.
Above all else, Christian wants to be remembered not just for his skill—and trust us, you won't have any trouble doing that.
I wanted to be remembered as fun. The guy who was always fun to work with.