Hart & Huntington Tattoo Co. was founded in 2004 by Carey Hart and was featured on the A&E television series INKED.
It all started in 2004, when freestyle motocross racer Carey decided to make his mark and open up the very first tattoo store in a Las Vegas casino. Originally starting out in the Palms, since 2009 the store has called the Hard Rock Hotel & Casino home. 
While Vegas may be known as Sin City, rest assured we take our tattoos very seriously. We provide a clean and safe environment to ensure the best possible tattoo experience.
Whether you're a tourist or a local, a first-timer or adding to your collection—Hart & Huntington Tattoo Co. Las Vegas has you covered. Check out our diverse collection of tattoo artists, each with their unique style and all part of our motto of "INK ROCK MOTO". When you're ready, you can book an appointment to get started on your way to a new piece of ink. 
More about Carey Hart
Since going professional at the young age of 18, Carey Hart has revolutionized the freestyle motocross industry and brought his passion to a variety of other sports and projects. Hart is one of the most recognized names in all of freestyle motocross. In 1998, the freestyle motocross movement was born with Carey leading the way. From the sport's inception, Hart has been one of the most innovative riders in the sport. He is the inventor of the Hart Attack, and at the 2000 Gravity Games Carey etched his name in the record books as the first rider ever to complete a backflip on a 250cc motorcycle. The backflip catapulted Hart, and Freestyle Motocross as a whole, to an entirely new level.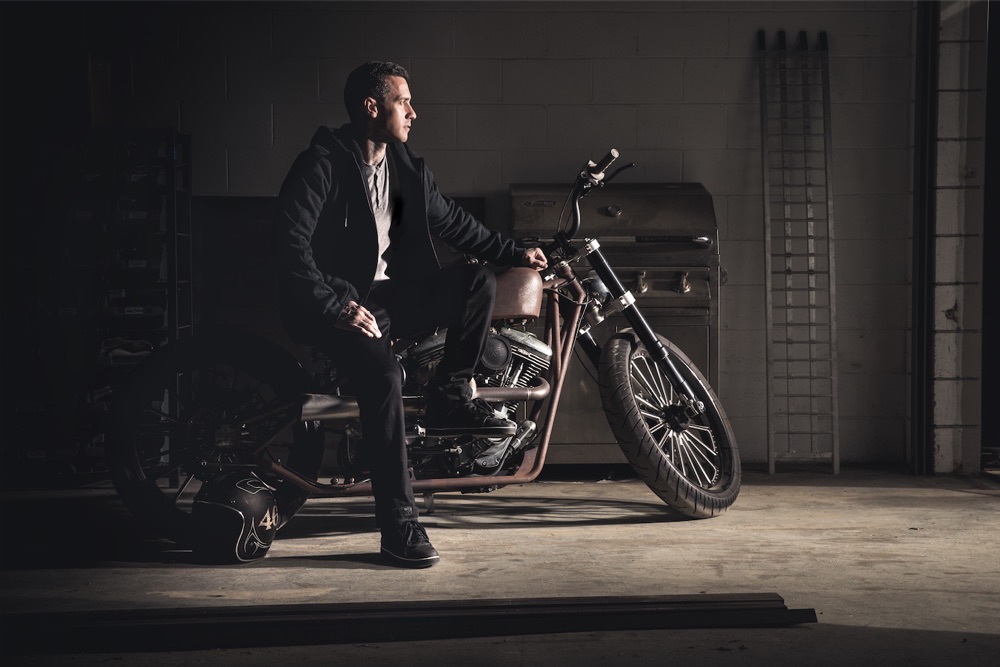 Off the motorcycle he pursued his passion of business with the creation of Hart and Huntington Tattoo Co., along with Hart and Huntington clothing. His first tattoo shop was based in his home town of Las Vegas and was featured on 3 seasons of A&E's hit television series "Inked", which led to the opening of more locations around the United States and Canada. Hart has been married to the popular singer, Pink, since 2006 and in November 2010, Carey and Pink announced they were expecting their first child together and on June 2, 2011, their daughter Willow Sage Hart was born.
In addition to these business ventures, he still dedicates significant time to one of his biggest passions, his Supercross team. Leaders on and off the track, Carey along with his RCH Racing co-team owner Ricky Carmichael are leading the way in motocross on top of the leader board in race results and in team partnerships. The team captured their first Lucas Oil Pro Motocross Championship during the 2016 season as the first privately owned team to win the title, as well as partnered with Yoshimura Factory Suzuki for 2017 and beyond.
Carey's passion for motorcycles expands greater than just off-road riding. A familiar face at V-Twin rallies, Carey was invited to be the Grand Marshall of the Sturgis Mayor's ride during the 75th anniversary of the Sturgis Motorcycle Rally. Carey and his personally built Harley-Davidson Road Glide were featured on the cover of the January 2016 issue of Baggers Magazine and was a featured columnist in "Carey's Corner". In September, Carey took part in the 2016 Bagger's Invitational Bike Build-Off held in conjunction with the Hot Bike Tour where Carey took top honors at stop five in Chattanooga.
Carey also started "Good Ride" In his opinion it's what motorcycles are all about, getting out on the open road riding from destination to destination with your friends. 2016 marked the inaugural year for the Good Ride series that kicked off in Laughlin, NV as well as Sturgis, SD. Each ride covered miles of amazing terrain mixing in some fun stops along the way involving top brands, custom bike builders, and more. "Our hope is to bring the party to the traditional charity rides of the past," says Hart. "Good Ride is a way for me to give back to an industry that I enjoys so much." Proceeds of each Good Ride location benefits various charities and causes. "This ride is for ANYONE who has a love of V-Twin motorcycles."
To participate in Good Ride please visit www.goodriderally.com
Career Highlights
Nashville Tennessee Hart and Huntington Tattoo Shop Opens-2016
Niagara Falls Hart Huntington Tattoo Shop Opens - 2010
Wasted Space Rock Club at the Hard Rock Hotel and Casino Opens - 2008
Universal CityWalk of Orlando Hart & Huntington Tattoo Shop Opens - 2007
Cabo San Lucas Hart & Huntington Tattoo Shop Opens - 2006
Honolulu Hart & Huntington Tattoo Shop Opens - 2006
Las Vegas Hart & Huntington Tattoo Shop Opens - 2004
First Ever Backflip on a 250cc Bike, Gravity Games – 2000
Mountain Dew Trick of the Week – 2000
Toyota Trick of the Week – 2000
Career Achievements
Riders Above Dirt R.A.D. Lifetime Achievement Award - 2011
Celebrity Dodge Viper Challenge - 2011
Host of MTV2's "Burn Out" series - 2011
Raced Lucas Oil Off Road Pro 2 Unlimited - 2010
Niagara Falls Hart and Huntington Tattoo Shop Opens - 2010
Hart and Huntington Australian Freestyle Tour - 2009
Wasted Space Rock Club at the Hard Rock Hotel and Casino Opens - 2008
Hart and Huntington Supercross team created - 2007
Universal CityWalk of Orlando Hart & Huntington Tattoo Shop Opens - 2007
Cabo San Lucas Hart & Huntington Tattoo Shop Opens - 2006
Honolulu Hart & Huntington Tattoo Shop Opens - 2006
Las Vegas Hart & Huntington Tattoo Shop Opens - 2004
Host for ABC Live's X Games Freestyle Motocross – 2005
Silver Medal – X Games, Moto X Big Air – 2002
First Ever Backflip on a 250cc Bike, Gravity Games – 2000
Mountain Dew Trick of the Week – 2000
Toyota Trick of the Week – 2000
2nd Place – Las Vegas LXD Freeride MotoX – 2000
5th Place – Irwindale LXD Freeride MotoX – 2000
Gold Medal – Australia X Games – 1999
1st Place – Costa Mesa LXD Freeride MotoX – 1999
Bronze Medal – Summer Gravity Games – 1999
1st Place – Costa Rican Supercross – 1999
3rd Place – LXD Orange County Jump Contest-1999
4th Place – 4 Leaf Entertainment Series – 1999
Personal Sponsors
Learn more