Her clients come to her for fresh ink with a lot of personality and absolutely nothing conventional.
I was always into comic book and cartoon styles as a kid. I'd create characters out of animals or take my favorite characters from TV shows and constantly redraw them in scenes or in different costumes.
She first discovered her love of colorful animation after watching Jurassic Park.
I found a love for dinosaurs and insisted on drawing them all over my grandpa's walls!
It's actually what led her to pick up zoological books, study animals' anatomies and draw them in her spare time. It became a full-blown hobby, something she couldn't wait to go home and do after school.
But Shauna never truly envisioned herself becoming a tattoo artist.
I always thought I'd be an art therapist or a mortician.
Then she dated a guy who was a home scratcher and was a big supporter of her artwork.
He decided he wanted one of my drawings tattooed on him and asked me to do it. I'd never tattooed anyone before, but I lied and said I had. I watched a quick video tutorial and did it. Thankfully it turned out sick!
From that first foray, she then started to see the light.
My friends growing up always said I'd become a tattoo artist. They asked me to draw pieces for them and let me practice on them with no prior training.
Image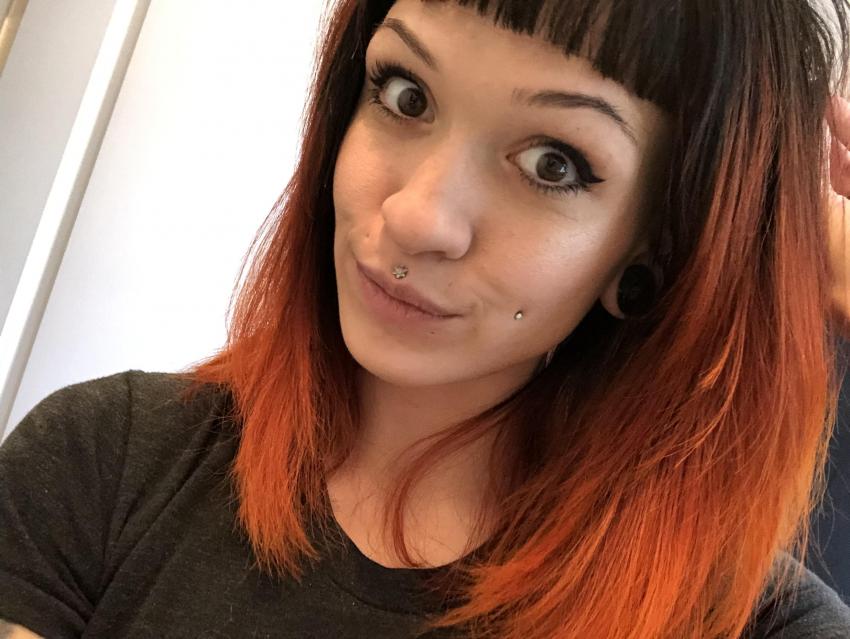 Shauna worked an office job at the time, and she knew it wasn't for her.
I just wanted to make art and had so many people hitting me up for tattoo art that I finally took my work to a tattoo parlor and got an apprenticeship.
That's when she really dug into the industry and soaked up as much knowledge as possible from the tattoo vets teaching her the ropes.
What I found most challenging was learning to take criticism. Those guys dragged you through the dirt and you'd have to learn how to smile.
Now that she's no longer a novice, Shauna would give one piece of advice to any aspiring tattoo artists following in her footsteps:
Follow your own path. You don't have to tattoo a certain kind of way. Be ok with your own style. You don't have to conform to traditional tattoos or Sailor Jerry work. People want uniqueness these days, not the same old, same old.
And that's what you can expect if you ever get tattooed by Shauna. Her colorful creations are eye-catching, showstopping and distinctly her.
I'm heavily influenced by the Neotraditional style of tattoo art. I love how the style uses value, various line weights, and intense highlights and shadows to create depth. You see a Neotraditional tattoo and you'll be like, 'woah, this is literally a piece of art.'
Her clients would agree, especially one lady who came in to see Shauna for her handiwork.
She had had a botched c-section, so her stomach had a scar from one hip to another, no belly button. She told me she hadn't worn a bathing suit or a bikini in years.
Shauna designed her a beautiful tattoo to cover the scar: a flourish of flowers and leaves.
She was so grateful for the finished piece, she took me out to dinner after we were through. Her daughters sent me pictures of her in a bikini not long after that.
Image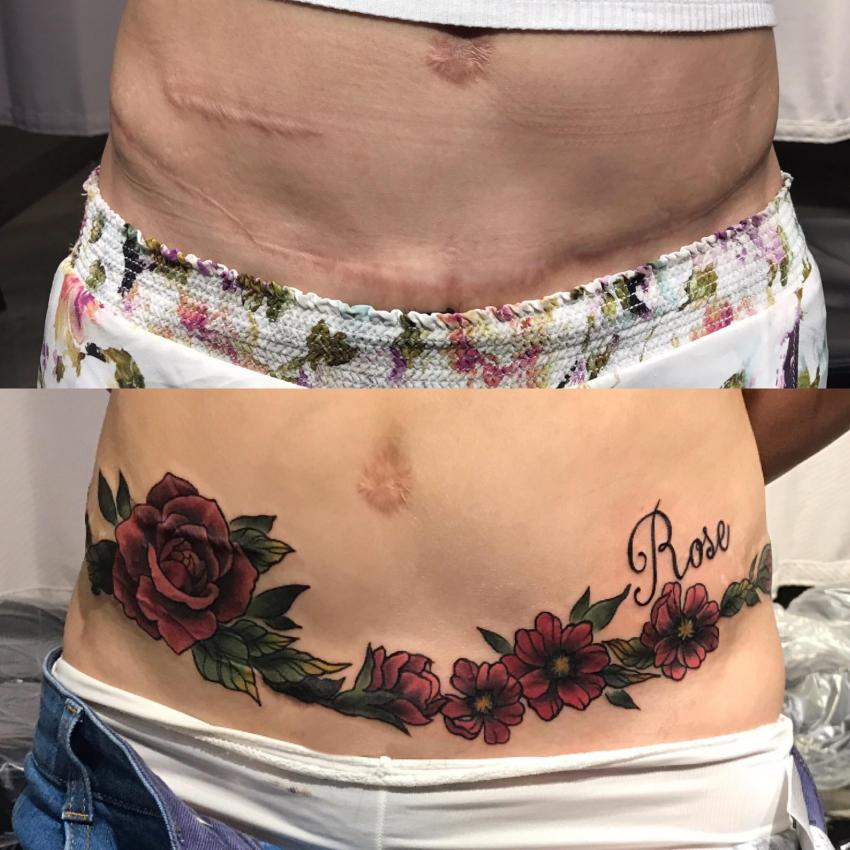 It was so cool to see someone fall back in love with their body because of tattoo art.
It's the freedom to create at Hart & Huntington that allows Shauna to do her best work.
The way the shop is structured and the freedom we have is amazing. As tattoo artists, we're not asked to bend to one corporate style, and we don't have to sacrifice income for it either. Hart & Huntington allows us to be ourselves and really focus on the styles we like and do best.
For Shauna, that is and always will be comic books. But there's always room for growth, for inspiration.
If you ever think you're done learning, you probably should just quit tattooing. The artists at H&H are really well-rounded individuals, and many have a lot of years on me, so I learn a lot from them. Seeing what other artists accomplish strives me to get better.
Hart & Huntington is a collaborative, positive environment, so you know you're always getting the best ink from the best minds.
It's been rad working here. No drama whatsoever. We're all happy to be at work tattooing great people.
For now, you'll find her inking some memorable pieces in our Vegas shop, but she's also working at creating a legacy on paper.
I'm working really hard on a solo comic book series right now. I created the artwork for one that was recently released at Amazing Comic Con and I loved it. I want to be remembered for my characters and vision. What gets me out of bed is knowing I have so much more story to tell.