Hart & Huntington has been a Las Vegas institution from the start. We were the first tattoo shop to open in a Vegas casino, and now we're proud to debut our third location at the very heart of the Strip.
Hart & Huntington Operating Partner Chris Turck has been here for the entire rebirth.
Las Vegas was where it all started for us. We're the originators and a significant part of this landscape. It was important for us to always have a flagship store here, so this third rebuild had to be a very meaningful process.
The first Hart & Huntington Las Vegas shop opened in 2004 at the Palms Resort & Casino. After that, we set up shop at the Hard Rock Hotel for 10 years. Then the pandemic hit, and plans changed.
The Hard Rock Hotel was set to become a Virgin Hotel, so we moved off property for that eight-month transformation. We had established a pop-up location at Caesars Palace when an opportunity for a permanent space on the first floor of the Forum Shops opened up. We went for it.
Each location marked a significant milestone in our history, and this location is no different. The new shop is now at the center of the Las Vegas Strip in the oldest themed hotel in Sin City.
It's classic. Caesars has been a landmark since 1966. Historic events were hosted here from Evel Knievel jumping the fountains to Muhammad Ali's signature fight. We're incredibly lucky to be part of the legacy.
Every Hart & Huntington shop is a destination in its own right.
This location was very important. We wanted to make sure the brand had a nice facelift, and that the look and feel was consistent with our sister stores in Orlando and Nashville. But we don't believe in the carbon copy when it comes to building out our experiences.
Each Hart & Huntington shop is a little different, a fixture of its own environment.
We like to keep things fun and unique, so our clients have a reason to travel to see each destination. This particular store is a cross between desert chic and Carey's personal workshop. 
And the finishes lend themselves to that. When you enter the store, you'll find vintage white paint on the walls with grey trim and cactus green accents. The countertops are made from polished quartz and the millwork is skinned with OSB plywood coated in a glossy epoxy to draw out the deep textured finish.
Rope and firework pendants by Dezign Lovers illuminate the space, while a super durable pebble grey Mohawk vinyl covers the floor, designed to take a beating from stray ink splatters and spills.
The space draws a lot of inspiration from our founder Carey Hart's private workshop. There's an accent wall lined with sheets of plywood, which he uses to mount his tool racks and display his helmets. We also have a big marquee sign that says "Hart" above one of the tattoo stations, so it really feels like you're getting tattooed in his workshop.
Image
There's also a wall wrap of Carey standing next to an Indian Chief bike he built, plus lots of reclaimed butternut and walnut woods.
A lot of heart and hard work went into reimaging our Las Vegas presence.
We found ourselves right at home in this new space. We're neighbors with a cigar bar and Harley Davidson, and Victoria's Secret is right across the way. This space was actually an old Art of Shaving, so we could retrofit a lot of the plumbing and electrical to fit our needs.
But not without a challenge. The new shop is very narrow and modestly sized, clocking in at 1,080 sq. ft. and just 16 ft. wide. It contains four tattoo stations, a retail space, a point-of-sale counter and a consultation bar.
We had to really think through workflow and operations before starting any construction, but we had a lot of incredible partners to help us through the process.
Shout out to Eric Frye and his company Eagle One Construction who did a phenomenal job at bringing our vision to life.
They were on time every day and worked really hard to meet our deadlines. We went back and forth on design at least 20 times, changing the layout up to the very last minute, right before we started demo. Sure, there were some minor hiccups—there always are with projects of this scale—but they still managed to get through everything on time and consistently provided high-quality work. It was awesome.
And that mattered. It was important for Chris and the team to ensure the new space felt open and welcoming despite its size constraints.
We wanted people to feel comfortable getting a tattoo in here, but also for passersby to be able to stop in and watch a tattoo in progress or shop our merch. To fit all that was a big challenge in a small space.
Gleman & Sons from Sanford, FL built out the millwork in their shop and drove it out to custom install it in Vegas.
Adrian Gleman headed up that project and was just phenomenal. We're so pleased with how it looks. 
Our new shop sign was produced in Orlando and shipped out to Vegas for installation. And Indian Motorcycles donated a few FTR 1200 motorcycle tank covers to use as wall art, all uniquely designed by different artists.
It's a tribute to the charity event Carey put on called Tanks for Troops, where he invited artists to design tank covers and auction them off for charity. Proceeds go to The Good Ride in support of Infinite Hero, a military charity for veterans. 
And we can't forget to mention the H&H team who rallied to make our new Vegas space a reality.
Our Marketing Director Stephen Csombok was the one who mocked up the interior design of the store. Our Shop Manager BJ Lepore was on hand, working 16 hour days with me, setting up fixtures and computers. My brother, Anthony, even came out from California to lend a hand as well. We put in a lot of hours to finish the store.
It almost led to a casualty.
Image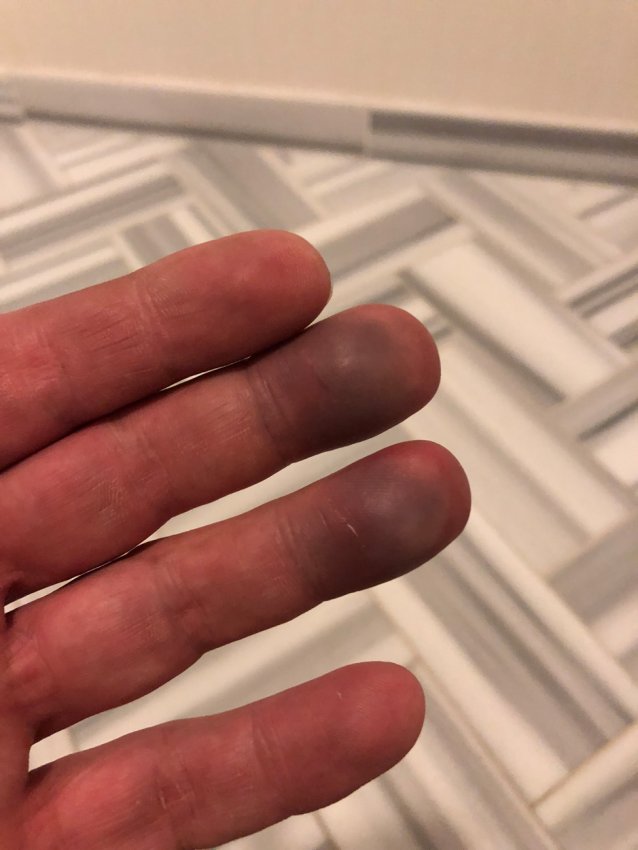 I walked away with two almost-broken fingers. We were setting up the retail walls when one of the big panels fell off and jackhammered my hand. My fingers swelled up to two big purple balloons, but I pushed through. I wasn't about to go to the hospital when we had a store to finish!
But the hard work paid off and the finished product is a must-see on any Las Vegas visit.
When construction was done, I couldn't stop smiling because it looks so amazing. It was fun to see it all come together from a drawing on a piece of paper. It looked ten times better in real life and more spacious, even compared to the color mockups. Everything is as it should be, flows well and is ADA accessible.
The new space feels very warm and inviting.
Our customers have told us how much they love the space and how happy they are to be here. And our staff loves it too, especially the back room where we have three tattoo stations in addition to the one up front. It's like convention-style tattooing, where the booth stations are distanced out but still close enough for everyone to have conversations amongst each other. It's like a tattoo party room!
After all, Hart & Huntington isn't just a tattoo shop. It's a community focused on providing quality tattoos in a fun, safe and exciting environment.
Our goal is to get more involved in the Las Vegas community now that we have our new store established. We're working on designing a pop-up presence that we can bring to local area events and grow our relationship with Las Vegas locals. A year from now, we may even be looking for a second location!
Our Las Vegas presence is stronger than ever. And it's all thanks to our killer crew.
Image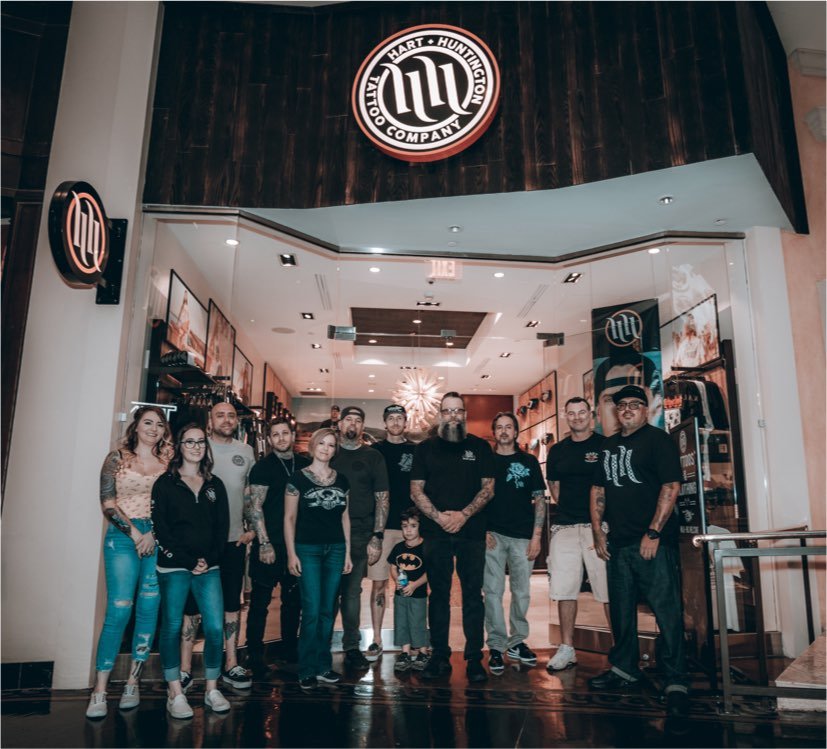 I personally want to thank the H&H team for doing such a good job of representing the brand, hanging in through the pandemic and the challenges of the pop-up shop, all while not having a stable home. So many of you worked a full shift, then stayed late to load trucks and move furniture, and all with a smile on your face. I applaud you for that. We truly have the best team.
And that's something you can see for yourself by stopping by our new store at The Forum Shops at Caesars.