Hart & Huntington Tattoo Artist TJ Denton knows exactly how much effort it takes to not only become a tattoo artist but to consistently work at the craft.
Tattooing is really difficult and it's something that you can't really ever master. It's not like a wrench that you pick up every day and it's always the same.
Creating art isn't a one size fits all type of deal. For TJ, his interest in art began when he was a kid growing up in small-town McKinney, Texas.
My parents would travel cross country and we didn't have tablets or anything like that, so they'd give me paper and I'd keep myself entertained by drawing. They always encouraged that.
It wasn't until high school that he was introduced to tattooing as a form of artistic expression at the age of 17.
I was a bad student so I was always in summer school. One year, I had a friend come up and say, "Hey I can teach you to make a tattoo machine," and I thought that was a great idea. Then I started tattooing all my friends.
After spending a few years doing tattoos from his own home, he realized that he needed to step up his game if he was going to turn this hobby into a serious business.
When I first started, I was really young and not thinking of it as what I'd do for a living. I just knew it was something I could do. So then as I got older, I realized tattooing people at your house might bring the wrong crowd around. I knew I needed to get into a tattoo shop. 
Image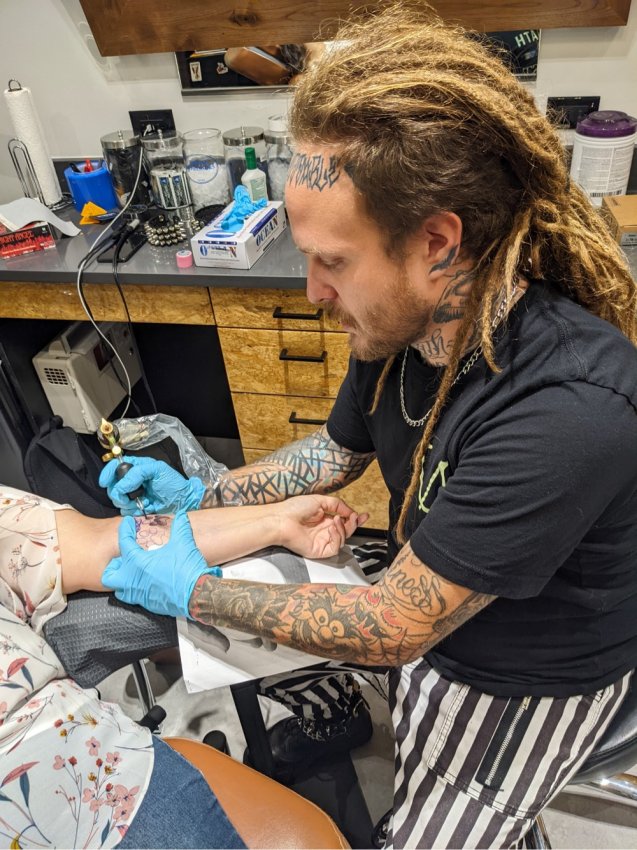 That's when TJ met his mentor and continued learning more about the art of professional tattooing in an actual tattoo shop. One of the more important things he learned was that tattooing is more than just bringing someone's creative idea to life. It's about making connections and relating to people on a personal level.
Tattooing brings you together with a lot of people. I've had a lot of emotional times that I've been able to be there for someone without really knowing them and that's always been really cool.
Creating and maintaining trusting relationships with his clientele is something TJ enjoys and takes very seriously.
Whenever you're able to make someone happy and give them something that they'll always feel love and affection towards, it's such a great thing. Anytime I'm able to be that person, it makes me feel the best.
Even when it may be tough, he knows the importance of being brutally honest.
This guy came in wanting a tattoo that nobody wanted to do. I was able to sit him down, gain his trust and create a better option for him. He really took my advice and ended up with a better tattoo that he immediately wanted to start adding to. In any other situation, that artist is going to give him the bad tattoo. But instead, I could be a help by talking through it.
Sometimes you have to tell them, you're here for a good tattoo so let me create it for you instead of doing just whatever.
TJ specializes in black and grey tattoo art using a stippling style.
It's done with a single needle, and I create texture with the density of the dots. So, whenever I shade, I can create a tint or a heavier shade by using more dots in a certain area. But everything I do is done in a way that you could add color.
Pulling inspiration from American Traditional, he loves to explore new ideas with his clients. 
I grew up in a traditional tattoo shop so I spent a lot of years designing American Traditional tattoos. And my wife is a traditional tattoo artist.
Working at Hart & Huntington Las Vegas has been a special experience for TJ because of the value that the brand carries. 
My wife got her first tattoo at Hart & Huntington when she was 18 and always talked really highly of it. I really like the trust that the customers already have. Sometimes in another tattoo shop they're more untrusting because maybe they've had a bad experience, but here they don't do that.
Not only does he love the company, but he truly loves his job and the entire experience he's able to provide his clients.
I'm blessed and thankful every day that I get to do what I love. Tattooing has literally brought me everything that I have in my life. Everything I love and hold dear in my life… it's awesome. It's a great thing to be able to do every single day.