That's definitely the case for Tyler Phillips, Social Media Manager at Hart & Huntington.
He started at our Las Vegas shop as a counter guy after studying Graphic Design in school.
I remember seeing the TV show Inked when I was in middle or high school, so I moved out to Vegas from Wisconsin without knowing anybody or having a job lined up. I've always been creative and just thought it'd be cool to work in a tattoo shop.
He quickly found his way to Hart & Huntington.
I went in there and bugged BJ, our shop Manager, and eventually landed a job setting up appointments and keeping the shop spiffy.
Five years later, he's now responsible for all the great content you see on our Facebook, Instagram and TikTok accounts.
Watching the numbers grow on our platforms keeps me motivated in the work. My goal is to make new content that's going to outperform the last.
And that's hard to do amidst the sea of tattoo photos on social media.
The biggest challenge is cutting through the clutter. TikTok is a really cool platform for getting artists' work out there in a new way.
Being the creative guy he is, Tyler always has a few tricks up his sleeve.
We also started hosting events to reach out and do new things within the community. Last month we did a First Friday event for about 20,000 people, which I've wanted to do for a long time. It was awesome.
The best part of his job?
Getting to work with creative people. I love design, and I get to utilize my creativity in my job every day.
Beyond the great ink he promotes online, Tyler also wears his own sweet collection of tattoos. In fact, that very collection started a trend in his family.
No one in my family had tattoos. They're very conservative. My dad's a preacher and my mom's a school cook from a town of 700 people. Moving out to Vegas was a big deal for me. Back home, you didn't ever see heavily tattooed people.
He's always been into punk rock and heavy metal, which is where his love of tattoos began.
I got my first with a buddy when I was 20: a small little anchor. I've gotten tattooed pretty regularly since then. It's just another artform I love.
Since then, both his dad and mom have gotten their own tattoos too.
I didn't think they'd ever get them. In fact, last time I was home, a lady told me her husband always said he'd never get a tattoo because it wasn't the way god intended him to be—until he saw my dad, the preacher, get one. Now he has a bunch!
Tattoos aren't a sign of rebellion. They're wearable art.
We have all kinds of people walk into our store to get tattoos, including 70-year-olds who come in to get their first. It's so much more accepted and open now. The only misconception people have is how bad it hurts. It does hurt, but when you get something small, it's going to take ten minutes. I'm afraid of needles, I hate getting shots, but this is completely different.
Tyler's favorite style is American Traditional and Neo Traditional.
I love their bold outlines, solid colors, and the history behind them going back to Sailor Jerry. He's one of my favorites.
Image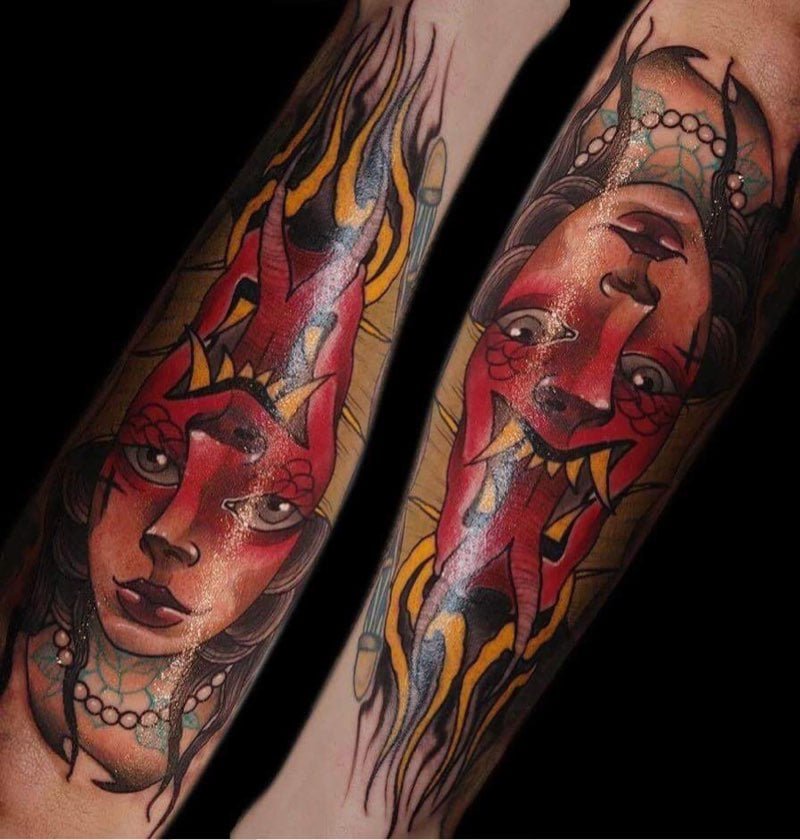 A couple of Tyler's tattoos were done by former H&H artists, Jaclyn Greb and Mike Zimmer.
Mike tattooed me several times. His line work is like no other: very meticulous. He gave me a tattoo on my arm where, if you see it from one side, it's a girl's head and the other, a demon's head.
He's also inspired by Australian tattoo artists Sam Taylor, for his freehand script work, and Sam Clark, for his Neo Traditional pieces.
Not all my tattoos are meaningful. I do have a couple of song names and my brother's nickname, but most are just art that I love.
Whether it's your first or fiftieth time coming into our shop, the key to getting a great new tattoo is having some idea of what you'd like it to look like beforehand. Tyler's handiwork (our social media feed) can be a great starting point.
First thing we need is some kind of reference we can start with. Gathering pictures beforehand is always a huge help.
Our Las Vegas tattoo artists can then walk you through the different styles we can do and sketch up designs until it's exactly as you imagined—or better.
A lot of people also think they need to have their design 100% ready, which they don't. Our artists can draw and adjust things for you to make a truly custom piece.
Hart & Huntington isn't like any other tattoo shop you've been to.
We're not a bunch of scary people. We'll talk to you, share ideas and answer your questions: what's in the ink, how it all works, what aftercare entails. We go over all of it with everyone to make sure their experience is great.
That's because everyone who works here truly loves what they do.
I never knew I'd become a Social Media Manager, but this is the job I've been at the longest. At heart, we're all artists and all creative. I like surrounding myself with those kinds of people, and I get to do that every day as part of my job.
Image