To say Mike Roche, bassist of the band, True Sounds of Liberty, had humble beginnings is an understatement. A surfer kid in Southern California, Mike lived in an apartment next-door to childhood friend, and T.S.O.L guitarist Ron Emory. They always wanted to be in a band. 
The So Cal scene was active. We were lucky to be the right group in the right place at the right time.
They soon hooked up with their two other bandmates, Todd and Jack, through skateboarding or shows. They got big, touring and gaining fans all over the world. Tattoos were a part of the culture. Fast forward and tattoos became a part of Mike's future. 
Image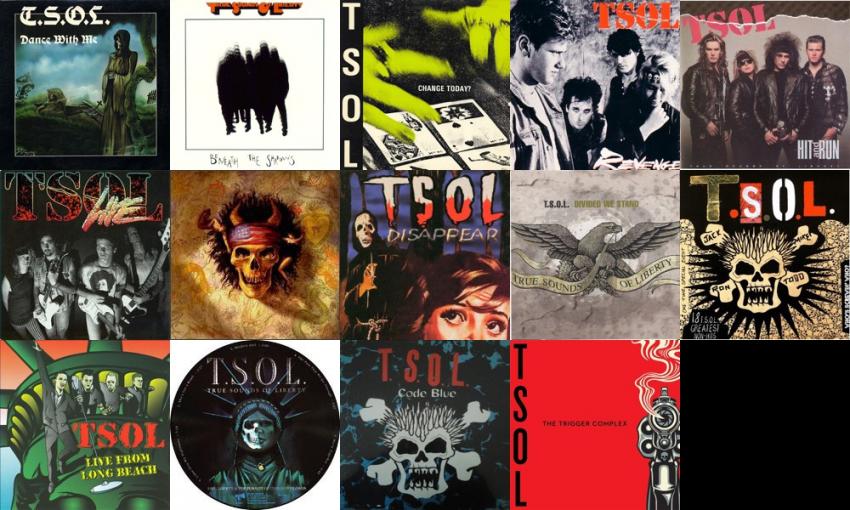 My father said, "don't you be getting any tattoos." Of course I'm thinking, I'm getting some.
Mike recalls the early days, when he would notice tattoos on some early punk band stars. Back then, in the late 70's early 80's, if you had a few tattoos, you had a lot. 
I remember the blue demon on Ozzy's chest. 
His first tattoo was quite dramatic too. He was 18 and he got theatrical skull masks. 
They were single needle. And just crazy. But a few months later, my buddy got the same ones in the same place. So I went back and got a bunch of things around mine to make it look different. I was arrogant. 
Like most of us who've gotten ink, he wanted more.
I wanted to get more tattoos. But it still wasn't so accessible. You got what you could afford and $200 was a lot of money back then. And, a lot of places made you pick something from the wall. If you didn't see it on the wall you couldn't get it. It was all flash.
Mike was always attracted to the artistry of ink. But didn't think about a career as a tattooist.
The art bug I had forever. Art was an outlet and escape. I never considered becoming a tattoo artist - it was so permanent. I thought it was crazy.
The turning point came while he worked in a not-so-glamourous job. 
That saying, necessity is the mother of invention, explains how I got into this business. I was back in the workforce in a construction job. It was brutal. I ran into my buddy, Mark Mahoney, in Hollywood who wanted me to work at Gill Montie's tattoo shop, called Tattoo Mania, on Saturdays. Then I started covering Sundays. I started covering for the guys during the week. I ended up making almost a week's pay in 2 days. It was a world I was comfortable in.
But it wasn't an easy start.
You couldn't just walk right in, it's a secret society. I had to earn my way in. 
The first tattoos he ever did were on his band mates, with thread and a needle. One was a "666". 
I did different degrees of stupidity on everyone's hands. 
Then he earned an apprenticeship at Mark Mahoney's own tattoo shop, Shamrock Social Club, in Hollywood. He started working on his own legs at home, to practice. 
I figured, if I was going to sacrifice your flesh I better be willing to sacrifice mine.
He learned how to mix ink and how to make needles, skills not needed as much today, because not everything is handmade like it used to be. But Mike says Hollywood really prepared him for Las Vegas—where everything is a party. And as for Hart & Huntington, he praises it for its authenticity. 
Hart & Huntington is more like a traditional tattoo shop than any other casino shop in this city. It's nice to work for a famous shop, but it means a lot to me that this is a real shop.
He's been with the company for eight years now. He travels in from L.A. every week, a trip he doesn't mind at all. 
I tattoo fans of T.S.O.L., people that share similar stories to mine, veterans, you name it. I'm really grateful with the respect I've received at the shop. This company changed my life.
He currently works at H&H four days a week. He's known as the Godfather of the shop, a title given to him by so many artists he mentors. He has quite a fanbase, both from his music and his legendary art. 
If you come in, you don't have to be tattooed by me, but I'll tell you some stories. 
Image