Now a vivacious 62 years old, she got her first ink on her 40th birthday.
Two koi fish swimming around my navel. I loved it. 
She's always had a soft spot for the underwater world, but it wasn't until this momentous milestone that she started to get serious about getting a tattoo. She'd been thinking about it for a while and finally took the plunge in honor of her special occasion. Since then, there's been no looking back.
I had a couple more since then, including a lionfish on my back, which I got at the Hart & Huntington shop that used to be in Waikiki. I still love my first tattoo, but this was just outstanding in comparison. And the shop was like nothing I'd seen before.
Then the financial crisis hit, and that meant a long lag until her next addition. 
I actually wondered if I was done, but then earlier this year I was planning a trip to Las Vegas and had been getting the itch again. I knew what I wanted this tattoo to be. I'd been thinking about it since I got my lionfish.
She remembered there's a Hart & Huntington in Vegas and went online and started browsing the artists at that location.
That's how I found Eric. I knew he was my guy.
Eric had done a lot of animal tattoos before.
He clearly understands the animal world. His portfolio is full of wonderful dog and cat portraits. You can see the personality of the animals he captured in his art. That's how I knew he'd pay attention to the details that are important to me.
Marney ended up getting not one, not two, but three tattoos from Eric—so far.
The first was an Archer fish. It's a brackish-water fish who knocks its prey off a branch by squirting water at it and eating it when it falls into the lake. I call it my sticks-and-stones tattoo because it's a sign of resilience against people who try to bring you down in life. 
It meant a lot to her. And she wasn't disappointed with the finished piece.
It was above and beyond anything I could have imagined.
Image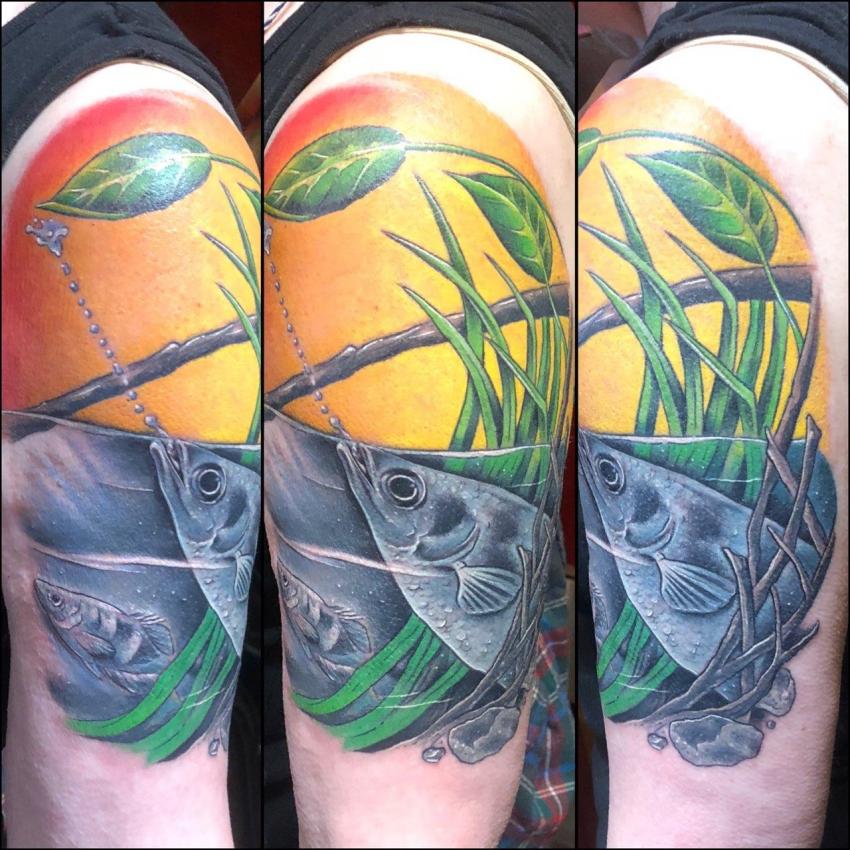 Her second tattoo from Eric was a portrait of her beloved cat, who she lost in 2003. 
16 years later, I still have trouble talking about her without crying. I knew she needed to be with me forever as a tattoo. But this one would be a real challenge for Eric, unlike before when I could show him an endless supply of photos of what an Archer fish looks like. You can't just pull images from the internet of my specific cat. I only had some bad photos of her taken in the 90s. They were really fuzzy and out of focus.
But great tattoos come with trusting your artist, as Marney well knows.
I like to leave a lot of room for the artist to do their thing. I just come in with a stick figure and say 'make this beautiful.' Eric understood what I wanted even though I was talking in Morse code.
And he pulled it off with flying colors.
He captured her expression perfectly—full of love and silliness. I just stood and stared in awe in the mirror at it because I couldn't' believe how well he'd captured the look on her face. To me, it's perfect.
Image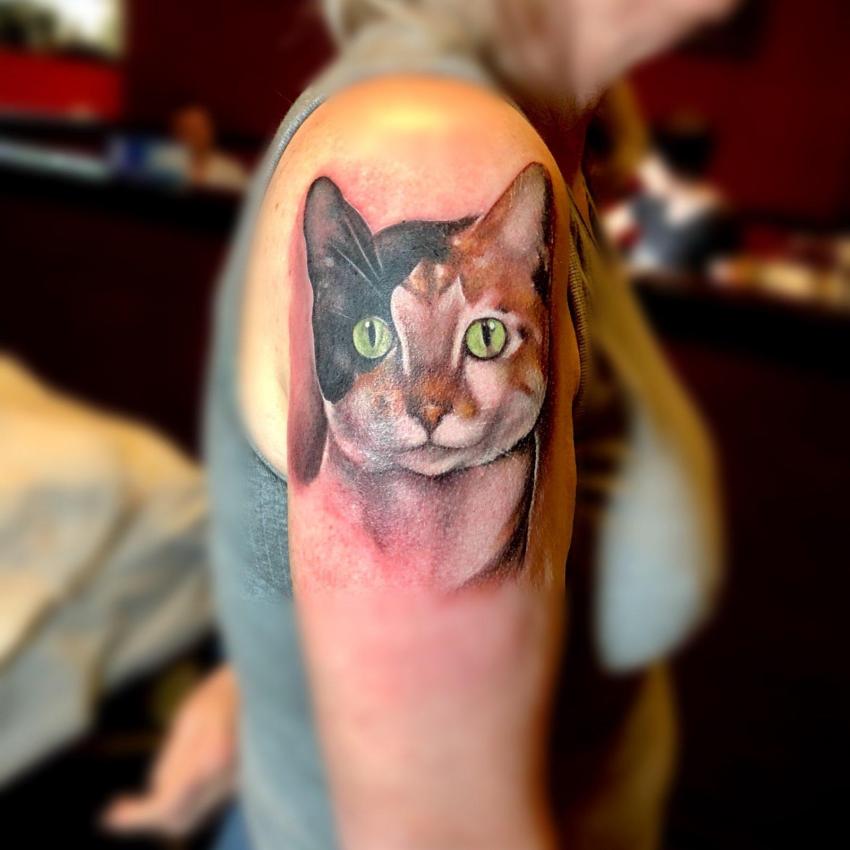 It's no shock that Marney came back for another tattoo after that, but this time for one that shows her wicked sense of humor.
I wanted something to remind me to stand up for myself, to not let people take advantage of me. So I got a can of whoop-ass on the lower outer leg above my ankle. 
No matter what ideas she brought to Eric, they always saw eye to eye.
Image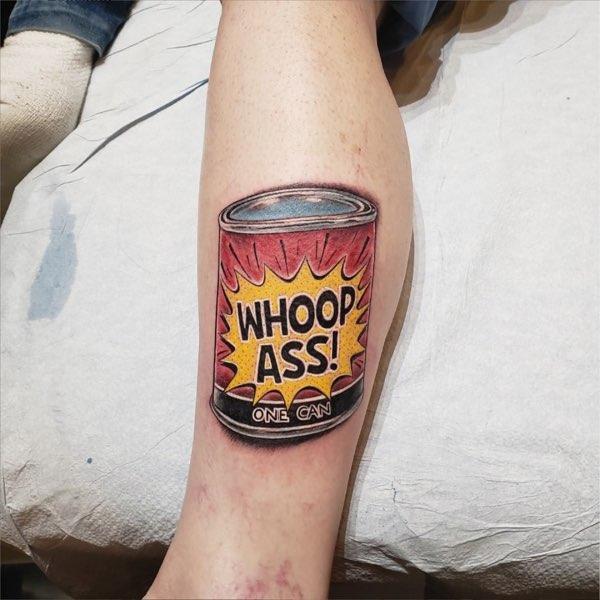 I didn't expect that we would bond the way we did. In a lot of ways, I feel like I made a friend. 
Image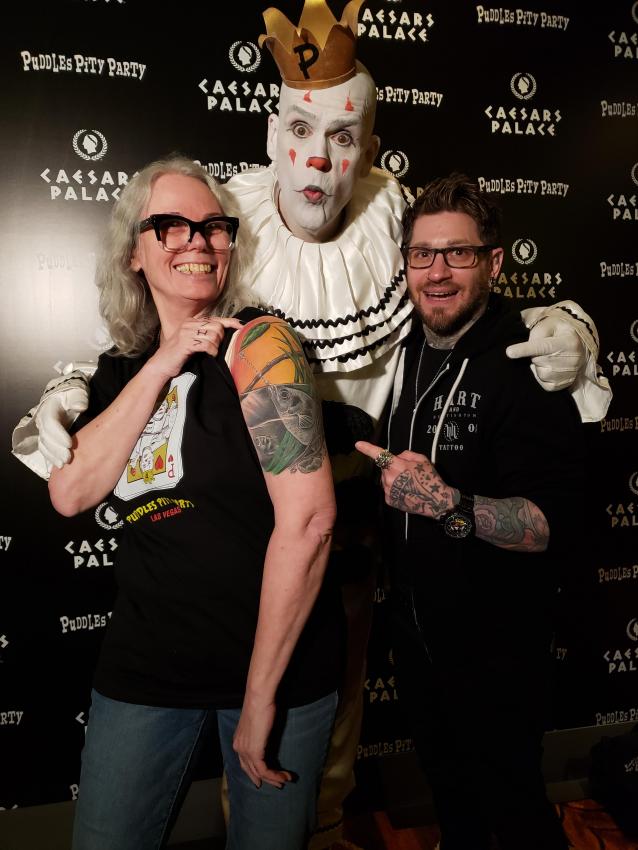 The rest of the H&H Vegas team also made an impression on Marney.
I went through the online booking appointment process with BJ, which was great. I booked two months in advance, and he was very patient and kind, answered all of my questions and reassured me so that when I walked in, I was ready to go. It's such a good experience every time I walk in there.
Marney plans to come back soon to get another animal (or two) added to her collection.
I want to do a Japanese tiger and dragon on my thigh. I've been thinking about that one for a long time, too, so it's about time we bring it to life.