He's 47 years old with a family of five getting ready to celebrate 27 years of being married to his wife this year.
He was raised in an old school, strict Catholic family in eastern Washington that believed getting a tattoo meant defacing your body for no good reason.
 The first tattoos I remember seeing were gang symbols. Only the troubled kids who wanted to rebel had them. I was always told I'd amount to nothing in life if I ever got one. 
He heard the same message at his first job at McDonalds. If you had a tattoo or piercing, you had to cover it up with Band-Aids and long sleeves if you wanted to keep getting paid to flip burgers.
I changed my mind about them much older in life. I'd see some of these Hollywood actors on-screen with body art. People were more interested in the movie they were making than the fact that they had tattoos. It made them much more relatable for me.
Matt is a banker by trade.
It's pretty unusual for bankers to get tattoos. I have to be careful about where I place them.
But that didn't stop Matt from starting his own ink collection.
When I decided to get my first tattoo, I was worried what my family was going to think. I kept it relatively hidden until one day, when I was with my dad, I was wearing a pair of shorts and he spotted it. He was like 'what's that on your leg?' so I showed him. He said, 'Oh, well let me show you mine!'
Turn's out, Matt's dad had also changed his opinion about tattoos. So did the rest of his family. His brother, a police officer, also has a few of his own. Matt's 22-year-old son has a full sleeve.
Nowadays, it's the norm.
Matt's first tattoo was one he'd thought about getting for a while. He knew that any tattoo he was going to wear would have to be inspirational and meaningful to him.
My first was of Dopey from the Seven Dwarfs wearing a Mets uniform. It's my favorite cartoon character repping my favorite team.
He had to save up and stand in line at a tattoo shop in Spokane to get it done.
I thought about it for a really long time to make sure I wanted to do it. I even contemplated not showing up for my appointment but I'm glad I did.
The whole thing took about an hour and a half.
It felt like flying in a hornet's nest for the first few minutes, but then you kind of get used to it and the conversation with your tattoo artist gets your mind off it.
So much so, Matt knew he wanted more tattoos after that one. In fact, he's gotten one every couple of years since then: Abraham Lincoln on his back leg. A family crest to celebrate his family's Polish descent. Most recently, a half-man, half-horse Sagittarius on his lower leg that Hart & Huntington tattoo artist Carlos Alvarez did for him in our Las Vegas shop.
I was born in December, so Sagittarius is my zodiac sign. It's Black & Gray with lots of shading and white details to make it look like it's glowing. I loved it since Carlos showed me the sketch of it. He's a true artist.
How Matt found his way to Hart & Huntington was practically written in the stars.
He was going to be traveling to Las Vegas for a conference and decided he was ready to get a new tattoo. He Googled some shops in the area and came upon the Hart & Huntington website.
Image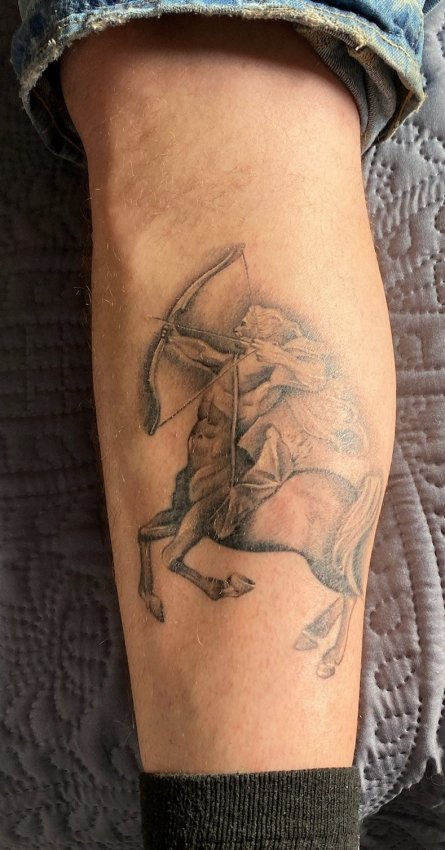 It was a really robust website that talked about Carey and the artists. I booked everything online. It was super easy.
Matt had reached out to two other tattoo shops in Las Vegas with the artwork he had in mind, and only Hart & Huntington responded to him.
BJ, the general manager, and Sandy, the assistant GM, responded quickly to help me with my budget and walk me through the whole process. The payment system was slick and secure—as a financer, I always look for that. And they told me to reach out if I had any questions leading up to my appointment. It was truly great.
When he told his friends he was getting inked at our shop, they only reinforced his good decision-making skills.
They told me Hart & Huntington is one of the best shops you can go to for a tattoo, that they have locations all over the place and that it's awesome I was going to be tattooed by Carey's crew. I felt really good about it.
The good vibes kept coming when it was tattoo day.
It was a wonderful experience working with Carlos. I showed up for my appointment early to make sure I had all my paperwork filled out. He came in, introduced himself, shook my hand and showed me a couple alternate versions of the tattoo idea I'd sent him to make sure I was getting the one I really wanted.
Carlos made him feel at ease throughout the whole process.
He talked to me the whole time and stopped a few times to ask if I needed a break. We had a great conversation about the pizza convention I was in town for, and life in general. He told me about his family, how he got into tattooing...We really got to know each other. He's a real people person.
Matt plans to come back again soon to get another tattoo from Carlos.
Image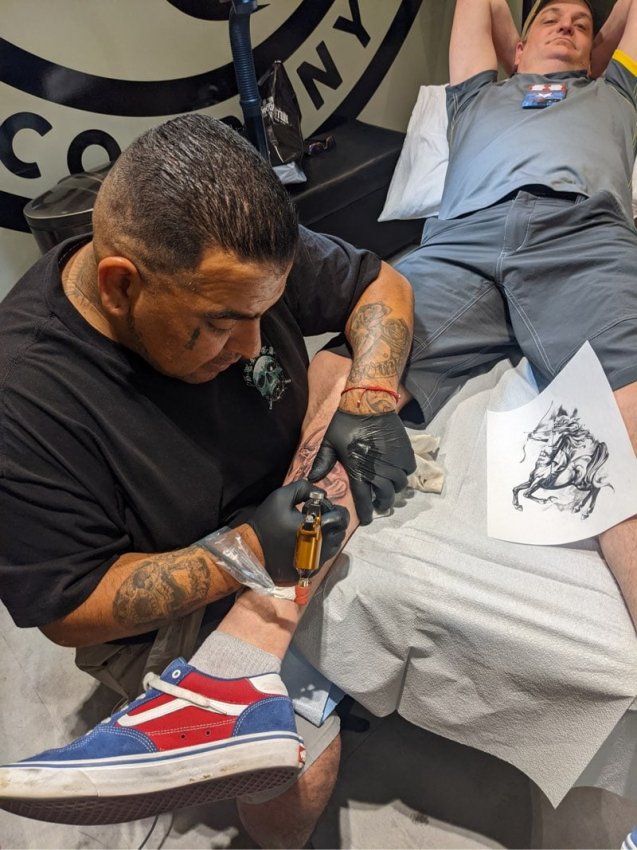 The warmness of the entire Hart & Huntington Las Vegas shop stood out to me. Everyone who was working there that day came to see how I was doing while I was getting my tattoo. They asked if I wanted snacks, water, whatever. They were very welcoming. I felt like I was one of the family.
Even when Matt was about to leave, the team made sure he had everything he needed to make sure his new tattoo healed well.
Carlos talked to me about aftercare and gave me this medical grade bandage. With all my previous tattoos, the artist had always just wrapped it with Seran-Wrap and told me to take it off in two hours later. It always got oozy and gross. But this was a new way of doing things. I could leave it on for four days, and it healed great.
Plus, the team signed him up for the Hart & Huntington loyalty program.
Once I'd paid for my tattoo and tipped Carlos, I joined the loyalty program and got a free hat.
Safe to say, Matt's experience at Hart & Huntington Las Vegas was seamless.
I'd tell anyone to go to Hart & Huntington, even if you don't live near Las Vegas. Make a road trip out of it. You need to go to a true shop that cares about you, and H&H is it.
Matt will be back here again soon to get his next piece: a Black & Gray Captain America.
There are 10 to 12 tattoo shops in my community where I live in Oregon, but I'll be going back to Vegas for H&H to do it.