In many ways, Sebastian Cooper is a lot like his dad, Parker. 
My dad always wanted to get a tattoo from Hart & Huntington, and we always talked about it. So we ended up there.
But he likes to plot his own course, too.
My dad has a Navy ship tattooed on his leg. I wanted to get the opposite, so I got a pirate ship.
Sebastian hails from a small town in Missouri and loves to travel with his dad to Las Vegas. They try to go a couple of times a year and that's how they connected with H&H. When he walked through the front door, he knew he was in the right place.
Image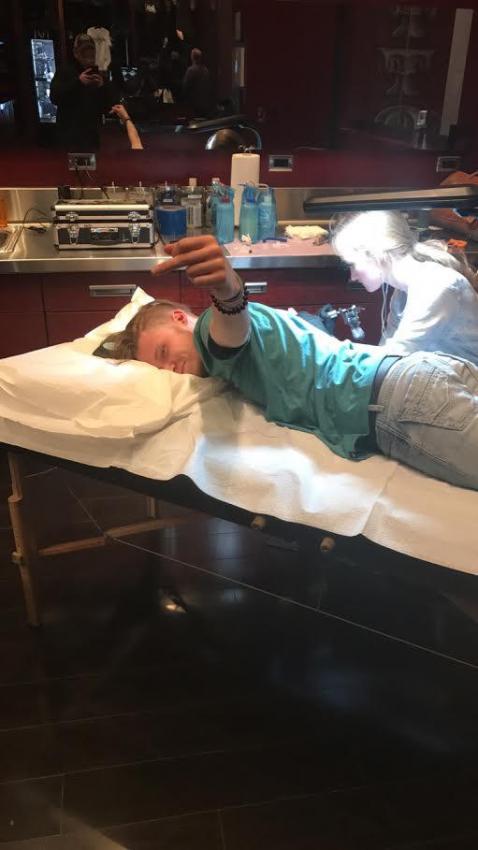 It was the coolest tattoo shop I'd ever been to. Everyone was super friendly and welcoming.
After I got my first tattoo at Hart & Huntington, I didn't want to get tattooed anywhere else. I just wanted to come back every time. There's a lot of local tattoo shops that we don't go to anymore. We go get whatever we want at Hart & Huntington.
Sebastian knows what he likes in tattoo styles. 
I don't know the particular name of the style, but I like obscure things—odd compilations of stuff. It has lots of color and has a cartoon look. For example, I have a raccoon in an admiral's outfit. Just odd things like that.
Image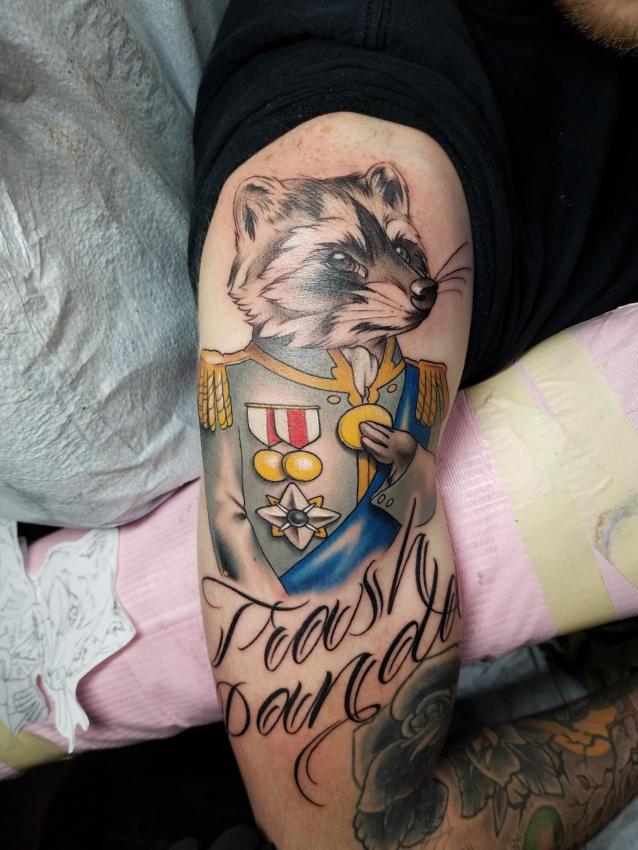 New school is the name is this style, and he's drawn to one aspect of it, in particular. 
I like the creativity of it. You can take two or three things and make them into one unique piece. 
We take pride in having a variety of artists to choose from. And Sebastian gravitated to two in particular. 
The last artist I worked with at H&H was Jaci. And I've done quite a bit of work with Lacey as well. I love working with both of them. Jaci and I get along fairly well. We have lots to talk about. And Lacy is really fun. She's just funny and we always have a good time.
Working with the artists at H&H was a breeze. 
The last tattoo I got was a pirate ship on my stomach. We did the first half of it and I'll be going back soon to get the second half. I just sent over a couple inspirational pictures and let them do the design and everything. They did a great job at taking the ideas I sent her and turning them into art.
For Sebastian, there's nothing quite like getting tattooed.
It absolutely is a meditative experience. You just get in the moment and relax. I love it.
Getting tattooed is one of my favorite things. After two or three tattoos, I started to crave it.
Then there's this tattoo competition he has with his dad over who has the most ink. The only thing he mentioned about it is:
He's losing, so…[laughs]
The one big takeaway from Sebastian's time at H&H is the same thing that keeps him coming back.
It's the whole environment. It's cool to listen to all the conversations and what's going on with everyone. I feel like I'm part of the group. They really make me feel included. It's so much better of an experience than a small local shop that doesn't know what they're doing.
That's why he's not shy about sharing his recommendation with friends.
Go to the best tattoo shop you can find. And Hart & Huntington is my top recommendation for everybody.
You're paying money for something that's going to be on your body forever. You might as well get the best possible product that money can buy. Coverups are way less fun!
Sebastian already has his next few visits lined up.
I'm definitely going back to finish my pirate ship tattoo. After that, I want a tattoo of Skeletor. I grew up in the nineties, so I didn't watch He-Man when I was young, but I like watching it now.
We're excited to see him again soon.