For Wes Molczyk, his family is his most important thing in life. That's why being part of the H&H family has been so special.
Once you're a client, you're part of their family, which is super cool.
Wes was born and raised in a small town in Nebraska. There, he went to a division 2 school and played football. After college he moved to the east coast for his first real job. He came back to Nebraska to settle down, marry his high school sweetheart, and start a family.
Wes' first tattoo was a memorable one, but for all the wrong reasons.
I first got tattooed when I was a freshmen in college. It was bad. I regretted it forever and always wanted to get it covered up. But once I got that first tattoo, I was hooked.
Tattoos aren't Wes' only passion.
My wife and I love to travel. We travel as much as we can, when the kids allow us to. A lot of times we end up taking them with us.
Las Vegas just so happens to be one of their favorite destinations.
Vegas is a place we love to go. We've been there a lot over the last few years. And that's how we found H&H.
I got my second tattoo after my kids were born. Mike Roche at H&H tattooed the word 'Seven' on my arm. Seven standing for the seventh month out of the year, July. July was when I first started dating my wife and the month all my kids were born.
He wasn't the only one getting tattooed that night.
My wife got a little tattoo by Mike that night, too. It was seven hashmarks, again, for the same reasons.
Wes was ready for more ink, but he had to fix an old problem first.
Finally I convinced my wife that I could get this horrible back tattoo covered up with something meaningful.
I had been planning, designing and coming up with ideas for a long time. I walked in and talked with BJ and they hooked me up with Steven.
Working with Steven has been an amazing experience for Wes.
Steven is the kindest soul in the world. I consider him a very close friend. I've spent countless hours with the guy while getting inked. I love him! He is an amazing artist and person. His whole life story was very captivating to me and I was really impressed with that & his extreme attention to detail.
Wes couldn't wait to start his new tattoo.
I had some ideas on what I wanted to do and I threw them at Steven and he ran with it. That little coverup turned into an entire back piece.
Many people get tattoos to signify what's important in their lives. Wes is no exception. This back piece was all about his family.
When my wife was in elementary school, she had a school picture where her mom did her hair and she looked like a great horned owl. I always teased her because she had those horns on her head! For my back piece, I wanted something that would represent my wife and kids, so I started with a great horned owl that took over my back.
For my twins, I always called my daughter sweet pea, so in one of the claws is a bunch of sweet peas. Her twin brother is the complete opposite of me, slow, methodical, and easy going. So I added a turtle to represent him in the owl's opposite claw. My youngest son used to squeak like a mouse when he was a baby, so I added a mouse in the beak of the owl.
Image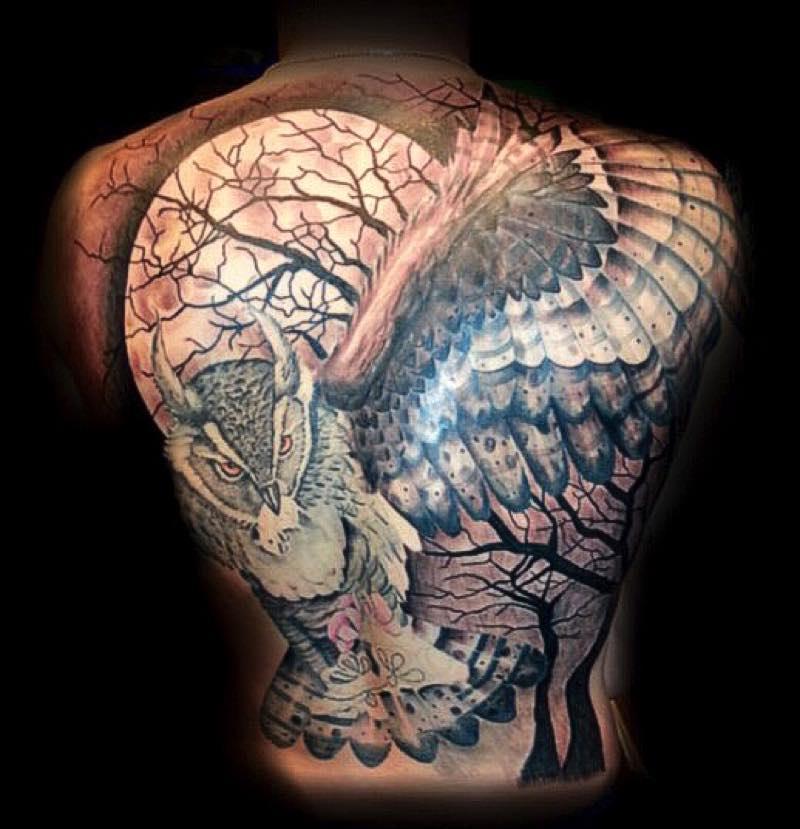 The entire piece represents my family. Yes, it was painful, but I enjoyed every second of it.
It took many sessions to complete this large tattoo. And Wes captured many memories from the experience.
Steven and I would work till 2-3 in the morning. There were nights we worked all night and I would jump on a plane right after to head back home. But I loved it. Every time I see it it takes me back to those happy times.
Image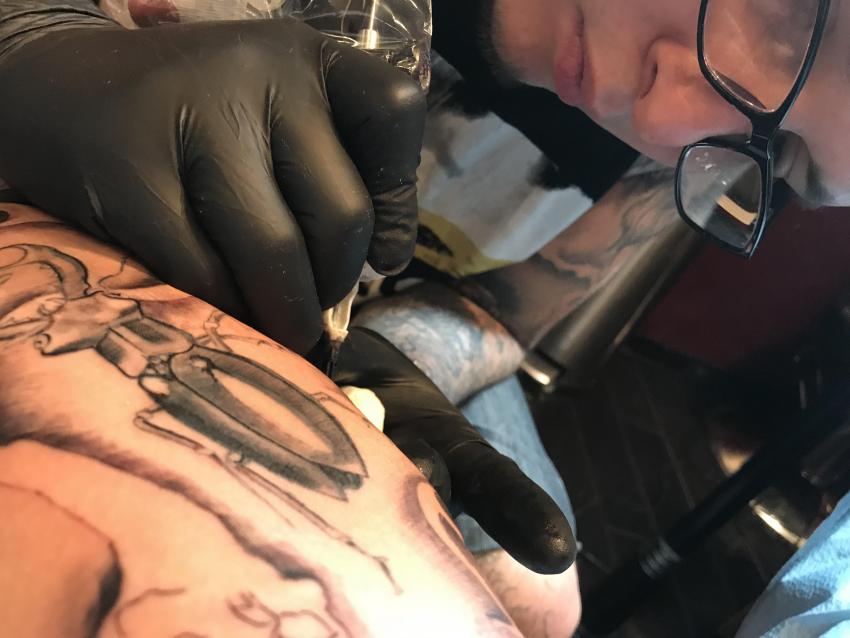 The experiences Wes had at H&H make it easy for him to recommend them to anyone who asks.
I bet, between my wife and I, we've sent 20 to 30 people to Hart & Huntington at this point.
They have outstanding artists. Their work is high quality. There's just not that kind of quality here where I live. I'm willing to go and travel and spend the money to get it done right. I don't want to wake up in the morning and go, 'Man, I wish I wouldn't have done that'.  I've already done that!
He already has his mind set on his next tattoo:
I would do a full leg sleeve, opposite my arm sleeve. I really love some of the statue-like figures that Steven has done, like a statue of Poseidon. I would do my whole leg, like rock it right up to my ass. I'd start it right now if I could. But I gotta convince my wife first!