Dorinda asked Lexie what she wanted for her 20th birthday back in 2020, and when the idea for matching tattoos arose, Dorinda knew of just the place to get them done.
I remembered being at the Hart & Huntington shop in Vegas with my husband years ago and thinking it was so cool. – Dorinda Schweiger
Unfortunately, life threw everyone a curveball that year. 
We started looking at ideas of what she wanted and what I wanted, but then the pandemic hit, which ended up giving us the opportunity to start looking for the right artist. – Dorinda Schweiger
This unexpected halt in their plans turned out to be a major blessing in disguise. 
I started to look at who was currently working at H&H and I stumbled across Lacey's page. I looked at all of her artwork and felt that she could for sure execute what we wanted.
– Dorinda Schweiger
Not only did they have more time to do their research when it came to choosing an artist, but they also had more time to flesh out their unique ideas, which started with Lexie's interest in butterflies and flowers.
"You were looking at mother-daughter tattoo and you were really drawn to one that was like a half butterfly half floral design and you wanted to incorporate the sunflower somehow. Then, I found some quarter sleeve examples and was like, how do you feel about going bigger than just butterfly floral?" – Dorinda Schweiger
That's when Lacey stepped in and worked her magic.
Image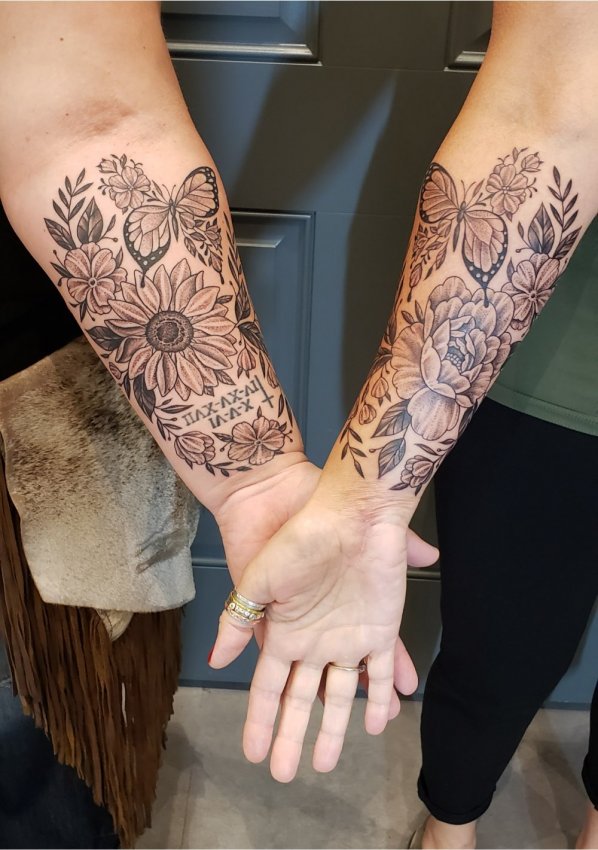 When we got to the shop and Lacey brought out the design, it was just spot on. My daughter had her idea and I had mine, but the way lacey brought the two together was just better than we even imagined.
Just seeing the stencil of it gave me chills. – Dorinda Schweiger 
She definitely beat the expectation. – Lexie Schweiger
Even though they didn't get the chance to meet prior to their session, Dorinda and Lexie felt more than confident in Lacey's ability to turn their ideas into reality.
It's interesting how you don't have much face-to-face prior to everything, but she was able to take our emails and capture everything we wanted. – Dorinda Schweiger
When I saw the design Lacey drew up, I fell in love with it. The whole process was just really easy to do. – Lexie Schweiger
From the moment Dorinda and Lexie stepped into H&H, they felt right at home.
When you walk into the back and everyone starts asking you questions about yourself… it was cool because they weren't even our tattoo artist. – Lexie Schweiger
Sitting through the tattoo was just so comfortable. When Lacey was done, I was so in love with the work she did but then this emotion of sadness hit me because the experience was over with and I didn't want to go.
– Dorinda Schweiger
They knew they wanted their tattoos to have meaning, and that's exactly what they got, but they weren't expecting the date they got them to have any significance. 
Lexie got hers done the day before me and I got mine on the anniversary of when my mom passed, so it was truly a mother-daughter experience, all parties involved. – Dorinda Schweiger
To top it all off, their experience with the entire H&H crew helped make this moment one they'll never forget.
Joking around with everyone was fun. We just got along with everyone there and fit right in. – Lexie Schweiger
Image
The location is great, but the people are what make it better.
Everybody was just so friendly and so comfortable. When we left, everyone said goodbye and took photos. I would recommend them highly. From what I saw, no matter who your artist is, you're going to be treated like you're part of the family. – Dorinda Schweiger