He's raised about $120,000 for St. Baldrick's Foundation since 2010, all in the name of funding childhood cancer treatment and research. He shaved his head and eyebrows a few times, so when one of his buddies challenged him to get a St. Baldrick's tattoo one year instead, he didn't hesitate for a second. If he got inked, he'd raise $3,000 in one go.
I remembered walking by Hart & Huntington when it was in The Palms way back in the day. I decided I'd go to get the St. Baldrick's logo tattooed somewhere on my body.
Daniel called ahead, explained that he was coming in to get inked for charity, and was hooked up with Hart & Huntington tattoo artist Lacey. He found himself sitting in her chair soon after.
I didn't know enough about getting a tattoo to make an informed decision on my own about what to get and where, so I relied on the shop to help me figure out what'd look best.
It came down to choosing between St. Baldrick's lettered logo or leprechaun mascot. Daniel decided to go with the lettering on his left calf.
Image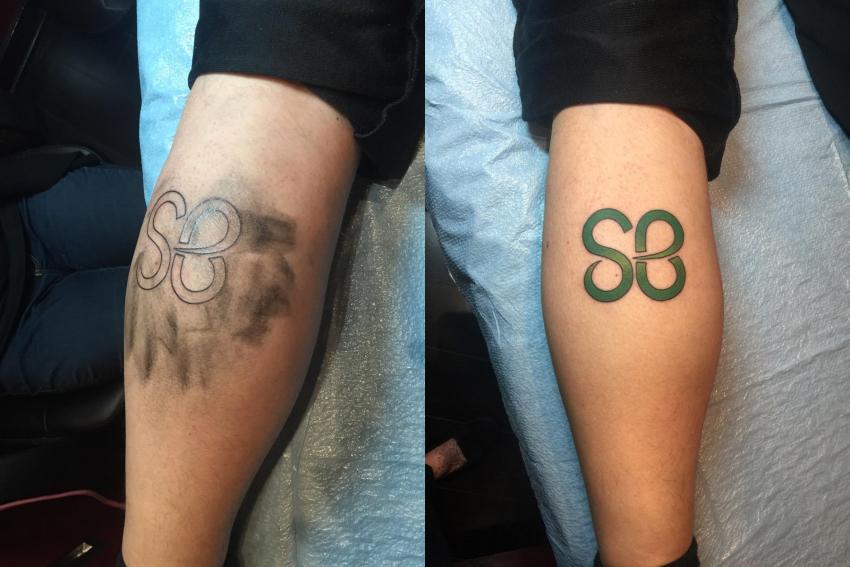 Lacey was very informative and nice. She took the time to explain what would work and showed me all the potential opportunities before we settled on a final design and place. She was the one who told me how a tattoo can blob, so we made sure we were doing something that would look just as great in five years as it did now.
He'd seen those typical movie scenes where people get hammered and show up at a local tattoo shop spontaneously, usually leaving with something they regret the next day. Daniel's experience at Hart & Huntington was nothing like that.
It was exactly the opposite of what I thought it was going to be.
I'm an older guy, thinking I'd be ridiculed and out of place walking into a tattoo shop at my age, but everyone in the Las Vegas shop made me feel at home, like family. Within minutes they calmed all my concerns and took away any fears I had. Everything about the experience was great.
So great, Lacey and the Hart & Huntington Las Vegas team have done three more tattoos on Daniel since: the Vegas Golden Knights mascot (also for a donation), the Super Bowl trophy, and a bulldog puppy commemorating his daughter's pet.
That last one was a little more involved because Lacey had to apply more ink to create a sense of depth. That's when Daniel started to develop a preference for the photorealist style.
I realized I love deep, dark tattoos with lots of detail—specifically, how it looks like you basically have a photo on your skin.
That's one of Lacey's signature styles.
Image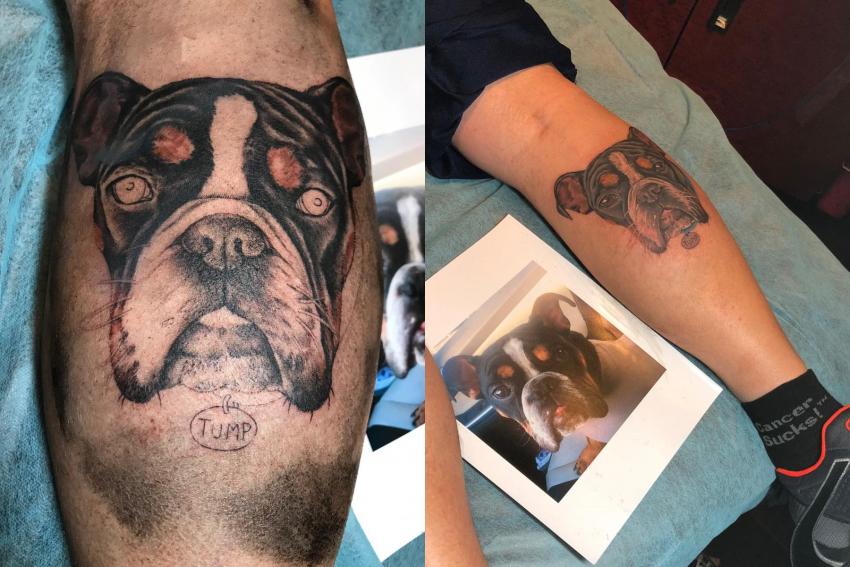 Lacey is awesome. She does amazing lifelike work and spends tons of time sketching to make sure your tattoo is going to look perfect.
She's very professional and walks you through the whole thing before you get started.
That's because it's more than a transaction when you work with a Hart & Huntington tattoo artist.
I could just tell she really cared about getting my bulldog tattoo right. She had also just lost her dog at the time. She let me know this one was going to be a little more uncomfortable since we were layering on more ink for depth.
It was a meaningful experience.
Getting tattooed has now become an addiction, both for Daniel and his whole family.
Since then, one of my daughters has gotten three tattoos there and my youngest daughter just got her first one. They already want more!
He had plans to get a matching tattoo with his daughter of the Las Vegas skyline, but when they arrived at H&H, they had to change plans.
My daughter couldn't get her tattoo since she wasn't quite 18 yet. I'd already booked an appointment and the Eagles had just won the Super Bowl, so I decided to get the Super Bowl trophy tattoo that day. I'd always watched the Eagles with my dad, so it was a tribute to him.
At Hart & Huntington, you'll always know you're going to leave with a great piece before our artists even touch your skin.
One of my tattoos was supposed to be a bit smaller, but Lacey showed me how it would have looked off compared to the one on my other calf. She helped me size it right so everything looked balanced.
Lacey also helped Daniel place what would have been a more painful and less effective Golden Knights tattoo.
The tops of the hockey sticks would have crept super close to my groin and she was like, 'No, you definitely don't want to do that.'
Image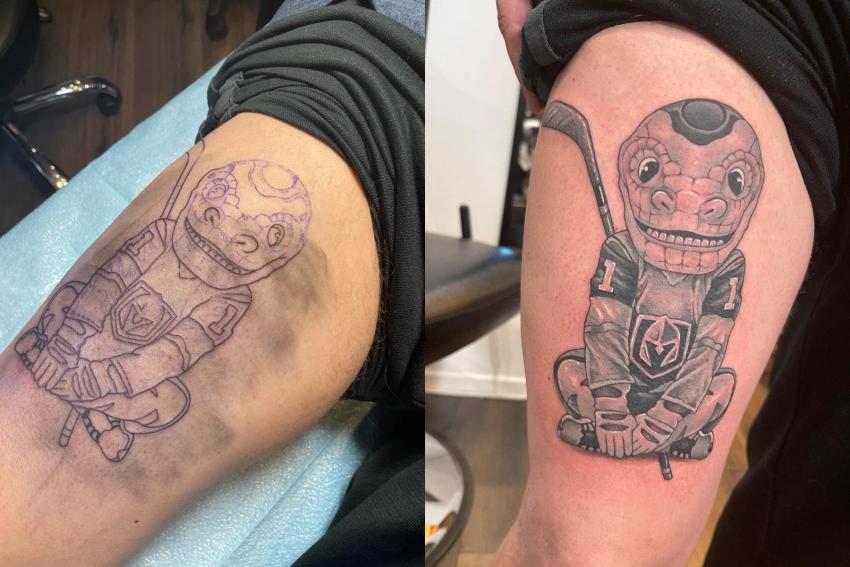 That kind of care and consideration continues even after you're done with your tattoo.
When I got my first tattoo, I didn't know you weren't supposed to expose it to the sun after or that it gets wrapped up for a few days while it healed. I had no idea what to expect or anything about the after care. But Lacey and the H&H team walked me through everything.
It may have all began on a dare, but now Daniel knows there's no gamble when it comes to working with our artists.
You get exactly what you want, so you can just lie back and close your eyes knowing that when you open them, your tattoo is going to look exactly like you thought it would. I refer anyone who wants a tattoo to go to Hart & Huntington.