Gone are the days where tattoos were seen as counter-culture. For some families, getting tattooed is a rite of passage. For others, it's a bonding experience.
The latter is true to Sarah Rodgers, a resident of San Diego, California who plans regular trips to the Hart & Huntington shop in Las Vegas. With her mother.
Sarah got her first tattoo when she was 18.
It wasn't taboo in my family. I really wanted one from a young age because my grandfather was covered in them.
He was in the Navy and had the old-fashioned sailor tattoos: a heart with "Mother" running through the middle, a naked lady on his forearm.
We went as a family when he was older to get the naked lady turned into a giant peacock.
He'd tell Sarah about the times he'd gotten each tattoo, including the ring of flowers around his nipples.
He was 17 at the time, drunk. By the time the first one was done, he said he was completely sober and thought it looked stupid, so he got the other nipple tattooed with the same ring of flowers to even it out. He said it was so painful he had to cut his overalls off – that really left an impression on me!
But not enough to deter her from getting her own ink. She started with a 1-inch heart made of vines.
It only took 15 minutes, not long enough to deter me from getting another!
Since then, she's added dozens to her growing collection.
I have a lot of health issues, but getting tattooed is a pain I choose. I can't always control what's going on inside my body, but I can control what's happening on the outside.
Sarah prefers Neotraditional style tattoos, complete with bold lines and rich colors beyond the basic red-yellow-blue palette.
I like how it connects the history of tattoos, the kind my grandfather had, and brings it forward. Like him, I have tattoos with smooth lines and artistic flair, but not quite as basic. I've taken what he had and made them my own.
She even has the same flowers as her grandfather, one on each of her shoulders.
His had the old-fashioned blueish green outline, all faded out. Mine are the same shape and style, but with more vibrant color.
Now that her grandfather has passed away, Sarah still feels a sense of heritage and connection, especially whenever she sees an older guy with similar Navy tattoos.
It brings back fond memories and makes me feel connected to him even though he's gone.
And her mother feels the same way. That's why they make repeat visits to the H&H shop in Las Vegas together. It's a tradition they've enjoyed for years. Sarah will get tattooed the first day they're there, her mother, the second.
Image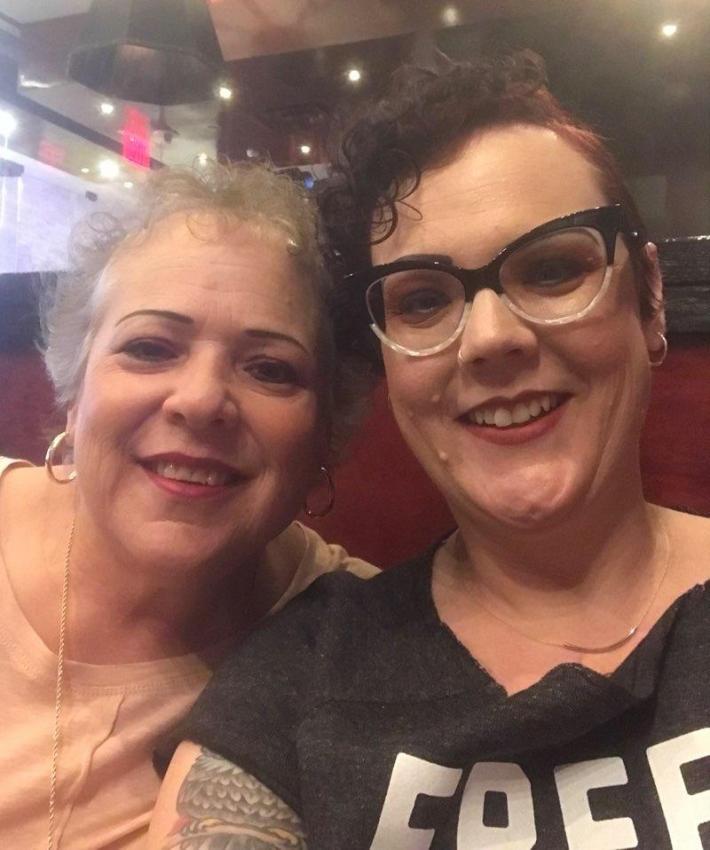 My mom and I are planning to go in a few days' time to get a commemorative tattoo of this tradition. We're getting a small image of the Hard Rock guitar that says "Las Vegas" and H&H's four bars – A memento of our time at the shop.
Sarah's first encounter with H&H, like many, was watching the TV show Inked. But her first in-person experience was when she'd been visiting the Hard Rock Hotel & Casino for a Queens of the Stone Age concert.
I had several hours to kill before the show started and decided on a whim to stop by. I knew H&H was there and had seen it on my way to my hotel room, so I stopped in to see if they had time to get a tattoo. And they did.
She felt comfortable from the start.
It's a really nice, clean shop. Never overcrowded or noisy. I'd been wanting to get a traditional rose, and as soon as I mentioned it to the person on the front desk, they referred me to the artist who could best do the job. It was a great experience and I'm still really happy with that tattoo.
Now she's a regular of H&H tattoo artist Lacey.
I adore her. She is so awesome. I met her when I was actually getting some work done by another artist and she was in the station next to us. The piece she was working on was really beautiful, and she had a really warm and positive vibe about her. I decided to schedule an appointment with her the next time I went in.
Since then, Lacey has given Sarah four tattoos, the biggest taking around six hours to complete.
I've really enjoyed getting to know Lacey, but it's like we've known each other for years. We don't have to fill the air with unnecessary conversation. It's a peaceful, intimate experience and so nice to get close to someone over the course of just a few hours.
Her favorite tattoo by Lacey is a gramophone on the inside of her right bicep.
I gave her a couple references of gramophones before we started and she just ran with it. I really loved how she took a super traditional image and added her own artistry to it.
Lacey is especially known for her signature teal color, which she adds to many of her client's tattoos.
It really makes it pop. But it also makes it uniquely hers.
When you're working with someone as talented as Lacey, you know you're going to walk away with a beautiful piece of artwork.
Sometimes I just see things that I'd like to have tattooed, things that inspire me. I send them to Lacey or one of the other artists at H&H, and they help me turn it into something concrete. It's like asking a couple of really good friends or family members for their opinion, their help in bringing your vision to life. They always make me feel welcome, like I can trust them.
That's why Sarah would encourage anyone to go to H&H.
I know they could walk in the door and the H&H team would recommend the best artist for the job depending on the style they wanted. They'd walk out with a beautiful piece, no matter who they worked with.
Sarah's arms are almost full now, so she's starting to think about tattooing her legs.
I'm always thinking of new tattoos I want. If I had the money and the time, I'd go to H&H every other week!
Next up is a lady's head with some flowers on her left thigh. A simple design, not hugely elaborate.
I sent some references to Lacey and I know she'll come up with something great. I can't wait to see her sketches when I go into the shop next week.