If I'm not tattooing, I'd just be walking around my apartment wondering how I should spend my time.
Tattooing has never felt like a job to him.
We all get up to pay our bills, but I believe if you're not enjoying the work you're doing (or anything in life, really), then it's not worth doing at all.
Eric has been at the H&H shop in Las Vegas for a couple of years now, but kicks himself every day that he didn't start there sooner.
When I first moved to Vegas, I was working in a lot of casino shops and it burned me out. It made me despise the city.
So he moved to LA and busted his butt there for five years, only to realize what he walked away from in Sin City.
Vegas is such a transient, changing city unlike anywhere else. We have a constant stream of business at the shop, people from all over wanting different things. It gives you more opportunity to grow as a tattoo artist, to try new things and improve your skills because you never know who's going to walk in the door with a great idea for a tattoo. It forces you to evolve constantly. We're never doing the same thing for too long.
But beyond the sheer quantity of people that he sees at the shop, it's the way Hart & Huntington does business that changed his outlook on the tattoo industry.
H&H is so vastly different than any other shop I've worked in. I even owned my own shop, but this feels like the most real tattoo place. It's just an easy, relaxed place to work. The shop manager, BJ, and the leadership here keep you on your toes, but there's a sense of comradery unlike anywhere else.
Unlike other casino shops, H&H isn't a cash cow. It's about producing quality work in a great environment. People leave here not just with a solid new piece, but with a story to tell. An experience.
Image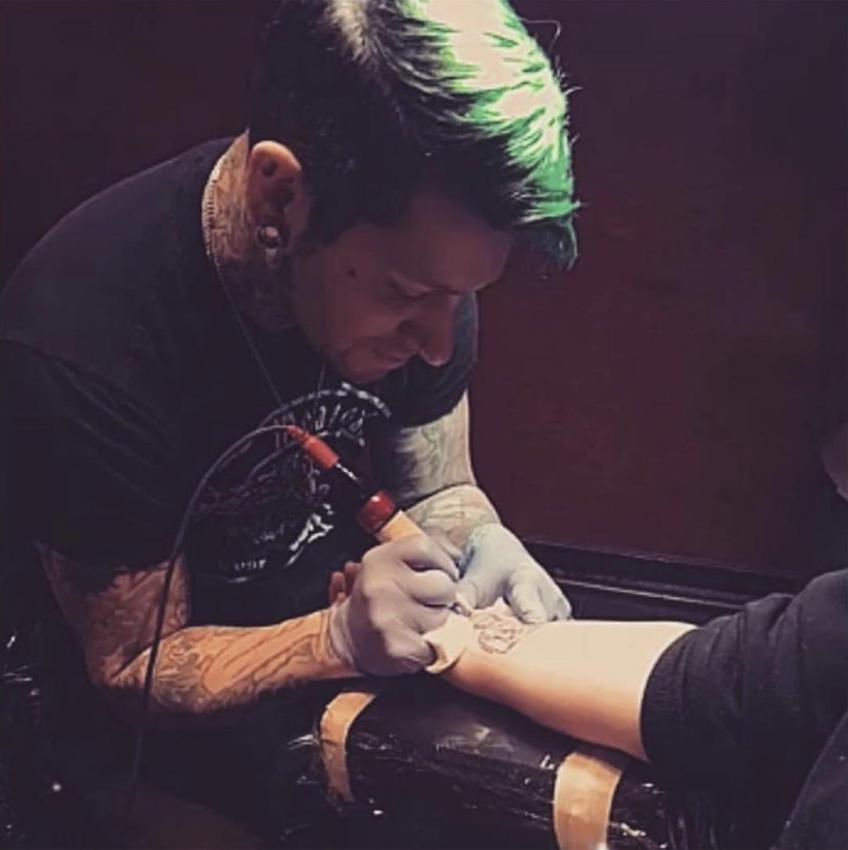 Here it's like, be yourself, be nice to people, do great work. Working here has given me a totally different outlook. I have nothing but good, corny things to say about H&H because it's given me so much.
That means a lot coming from someone as gritty as Eric. He started his tattoo career in New York with one of those old school, break-you-down-to-build-you-up apprenticeships that teaches you the tools of the trade the hard way.
My dad had tattoos on his arm and hand that were just blobs, which he hated, but I thought they were the coolest thing in the world. I knew I wanted to get one as soon as I turned 18, which I did, but I'd hang out at tattoo shops as young as 16, begging the guys to tattoo me. 'Course, they never did.
But it was that tenacity led Eric to his first gig.
I'd hang out at this one tattoo shop in West Hempstead, bringing the artists lunch, comic books. You know, I'd just schmooze them. Eventually they asked me to work as the counter guy.
He'd work a 9-to-5 job during the day, then make the long trek to the shop and work from 6 p.m. 'til midnight, then back home to Long Island. Every. Day. It's no surprise they offered him a full-time job when they saw how invested he was. He even managed to persuade two of the artists to teach him how to tattoo on the side while working the counter.
My apprenticeship it was rough. They'd beat on me hard, but being as stubborn as I am, I didn't give up. It was about proving that you really wanted the gig bad enough, that's what they were so hell bent on teaching me. They were in it to break down any ego you had, build you up the way they want you to be – to see if you're doing this for the right reason.
As brutal as it was, the apprenticeship also provided a sense of stability and guidance for Eric. His father passed away when he was 18, and the two guys who taught him became father figures to him.
If it wasn't for Erik Desmond and Anthony Maxwell, I wouldn't have the life and career I have today. I credit my dad with teaching me the basics – to be nice to girls, hold doors open, stay away from bad people, to never do drugs…but these two guys instilled a moral compass in me.
For aspiring young artists, he hopes they learn the same sense of conscientiousness and integrity they passed onto him.
I would want them to continue a career with a moral fiber, to not go into this business for fame or fortune. I'd like them to have patience, value the process of learning and to honor the people who came before them – Jack Rudy, Guy Aitchison, Ed Hardy. I beat that down, to always know where you came from – that's the biggest thing. And to be a generalist.
Eric's mentors taught him to be good at every style of tattoo art versus specializing in one.
They said the only way you're going to make it in the business is if you don't pigeonhole yourself into one style. The only way you're going to get better is to try things you're not fluent in.
That's why Eric goes out of his way to learn. Constantly.
I go to workshops, buy DVDs and books on painting to challenge myself to practice new techniques. I want to be good at everything.
But there's definitely one style that Eric prefers over others, one that's more rooted to his own background: the bright, bold colors and clean lines of comic book illustrations.
As a kid, I'd always draw superheroes and cartoons. Then I'd draw for the jocks in high school and, in return, they'd protect me from bullies. Later, I was nominated Most Artistic in my class.
He thought he wanted a career in comic books and did everything he could to break into the industry.
My friend started working for a comic book company and hooked me up with an interview. I started off doing backgrounds, which I thought was the coolest thing in the world, then lettering on the computer. But it just wasn't what I thought it would be. Everyone there was miserable, jealous of each other. It was such a toxic and disorganized environment.
He soon realized he could channel his artistic abilities into tattooing.
It was everything I thought the comic book company would be, just a different, more fun, more challenging industry for artistic outlet.
Now his style has evolved. He's trying to improve his Realism and Black-and-Grey skills.
I'm really into animal portraits right now. You can't have a bad day when you're staring into an animal's face.
For Eric, it's not just about giving someone a clean, creative tattoo they like. It's also about giving them an experience they're happy with.
I try to forge friendships with the people I tattoo. If they like the work I've done, we forge a bond no one else will have. I tend to dive into deep conversations with my customers to understand (depending on if they're willing to share) what this whole process means to them.
Oftentimes, people come to Eric for tattoos that are highly symbolic – a piece honoring a deceased family member, an obstacle they've overcome.
The emotional connection is humbling when they cry because they love their tattoo so much. It's surreal. It keeps you grounded and makes you remember what it felt like when you got your first tattoo. I remember how proud I was to finally have a tattoo like my dad. I'd wear muscle tees to show it off.
For Eric, tattooing isn't about going down in history for the work you do.
It's about making someone happy.