Shop Manager BJ Lepore puts artists first.
The business. The books. The bottom line. As manager of Hart & Huntington Las Vegas, BJ has a ton of things to focus on. But his number one priority is the artists and staff who work there. He treats them like family and it comes full circle because they give the same warm welcome and care to their clients.
The thing I've always pushed is to make this a place great artists want to be. They're very important to me. And without artists, we're not doing anything but selling t-shirts. That's not a tattoo company. So making sure the staff is taken care of is number one priority. And if they're great, the customers will follow suit.
Without artists, we're not doing anything but selling t-shirts.
You can't teach this. BJ has a ton of experience coming from a busy shop in California, where he worked for well-known artist, Roman, who kept him pretty busy. It helped shape the kind of manager he is today.
Roman is a beast, the guy works like a maniac. He taught me everything but It was a lot. 6-7 days a week, 14 hour days. My now wife said I could continue to be in the relationship with her or I could marry him. That's when I knew I needed a change. But I wouldn't be in this industry I love without Roman and that experience.
When Vegas had an opening, he came for an interview. But it was just to be a counter sales person.
It was an awesome opportunity for a big change. I was considering working for H&H but I wasn't sure. There was a stigma about casino shops and I wasn't sure I'd like it. Then I met everyone and saw what kind of work they did and I knew it would work out. I liked the structure and knowing what I
was doing each day. It was a lot better fit for me.
It was a great fit for H&H, too. He became manager and never looked back.
The most enjoyable aspect of working at Hart & Huntington is the people, both the artists and the clients. It's cool to be involved with the hiring and build a team around the shop. This is a family environment and everyone works together well. We have artists who've been together for 10+ years.
It's crazy.
Although he's heavily into the industry, BJ claims he can't draw.
I joke about it all the time, I am not a tattoo artist, I don't draw and I don't have any artistic ability whatsoever. I respect what the artist do way too much to even attempt it. Yet I get to work in this industry I love and am passionate about without having the skill to do it.
But he has plenty of artwork.
I don't buy into the idea that your tattoos have to mean something.
I have art in my house that doesn't speak to me, it just looks good. Same with some of my tattoos. I also have some that mean a lot. I have my wife's portrait on my thigh done by my friend Poch and that means the most because she is the most important thing in my world. I also have my grandfather's portrait done by my friend Kata and that's meaningful too.
Image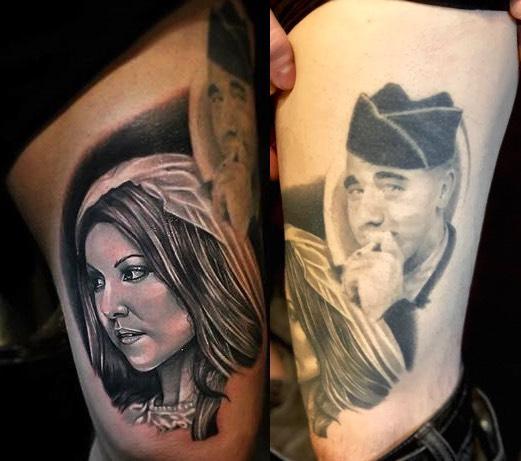 Funny thing, the largest portrait tattoo BJ has is not exactly a family member.
I have a giant portrait of Kobe Bryant by Roman on my back. He's been with me since 1996, longer than I've been with my wife.
Image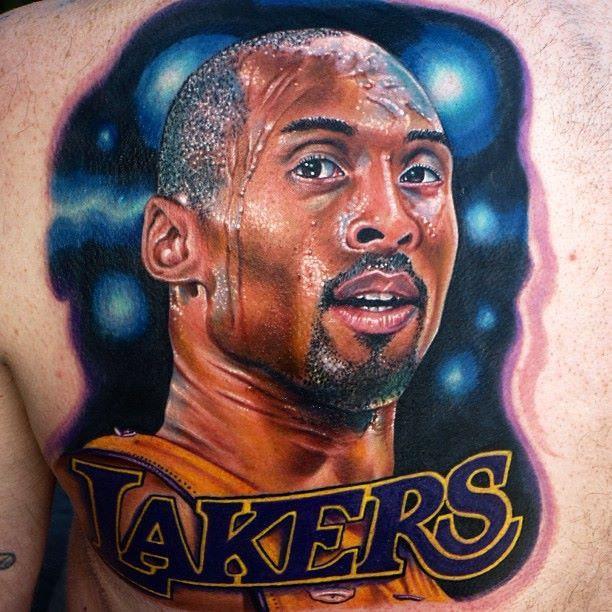 Being in Vegas, BJ sees a lot of strange requests come through the shop.
The butt tattoos are always strange and we always wonder why people want them. We get bet tattoos all the time, especially Super Bowl loss tattoos.
And then there was one time…
A guy came in and was adamant about getting a tattoo then and there, of some letters on his backside. We had no openings. He offered to pay for someone to move their appointment and she took it. We finally found out it was a bet tattoo and he won a lot of money for doing it.
A little bit of advice from a guy who sees it all.
Don't assume it will be ok if you tattoo your face or hands. Those tattoos can still be job stoppers. It changes things. You may not get to be a doctor with a face tattoo.
BJ has a lot of wisdom from years in the shop. He still considers himself blessed to be in the business.
People always ask me how I got in this business. I guess I keep a schedule well, I'm mildly amusing and I can take a punch. All joking aside I'm really fortunate to be a part of this industry and I believe that with all my heart. I'm blessed to be in it.
Hart & Huntington is a very unique place. Once you get in the doors here, it changes your life.
Image