Jordan grew up racing dirt bikes and building cars in California. And that's actually how he met Hart & Huntington founder Carey Hart.
Image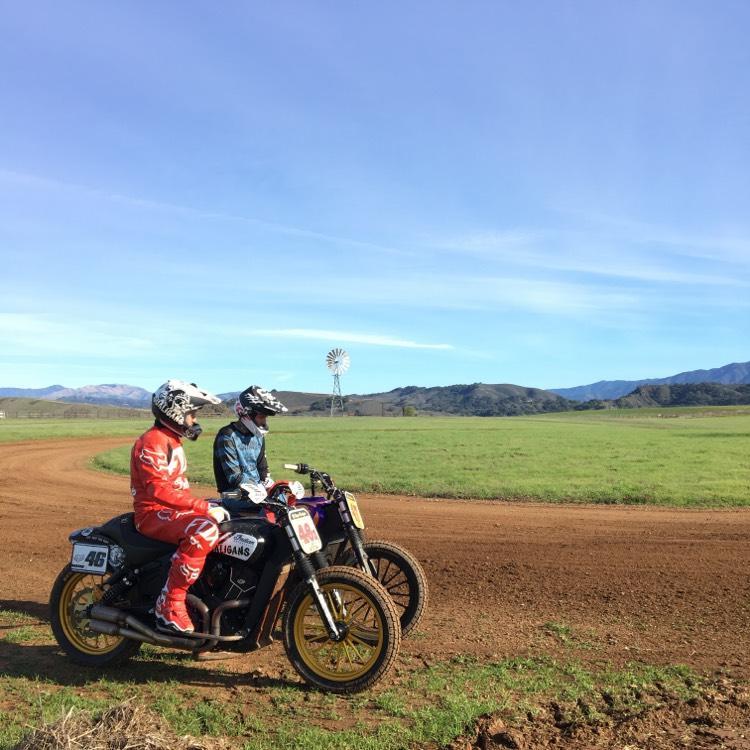 We met about six years ago through work, but we have about a million mutual friends from over the years. I always looked up to Carey as one of the top freestyle guys out there.
It was just a matter of time before their paths would cross. They finally met at Airtrix, where Jordan had a gig painting helmets and motorcycles at the time.
We both ended up signing a deal with Indian Motorcycles and got to know each other from there. I was racing V-twins and he was just getting into it. Then we started racing Hooligan stuff, hanging out – even built a track at his house.
Now they're neighbors.
I'm now building a Model A sedan hotrod in Carey's shop. We've become really good friends throughout the process. It's in the final stretch, but I'm not going to show it to him 'til it's all buttoned up. Then let it rip!
Jordan's been building hotrods since he was 12 or 13.
Image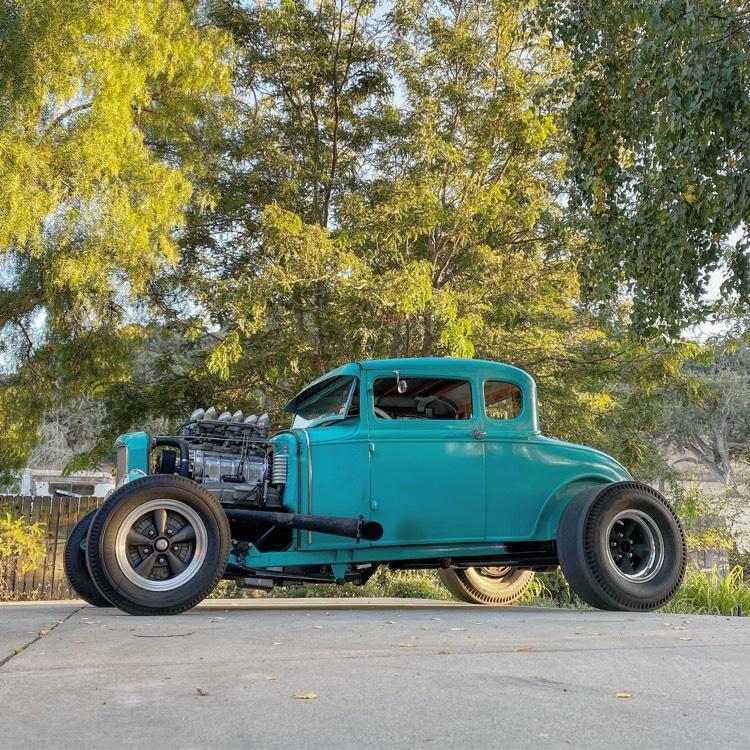 I'd go see one of my best friends' grandpa at the local motocross store. I snuck into his garage to look at his drag car and old Fiat coupé. From that day on, I knew I needed a hotrod.
He weed whacked this lady's ranch for some extra cash at the time and, instead of asking for payment, he asked if he could work on one of her rusty Model A's.
I spent all my time in high school researching how to redo hotrods. All my friends were like 70 years old, and they'd hook me up with parts. It exploded from there.
He ended up collaborating with a guy, Scratch, down in LA who was doing an overhaul at the time for a Hotrod TV episode.
I was just 15 and didn't have enough money to buy parts, so I made them myself. I sent this guy a message saying I wanted to donate a drop-front axle for his project. I drove my Model A coupé down to LA to bring it to him, and he asked me to weld on the project. It was awesome.
He ended up staying there a couple of weeks to finish the episode. By the time he was nearly 19, they offered him his own show called Nineteen28, where they filmed him building a car over the course of just three months.
I was in high school at the time, wondering how I'd finish it, so my dad helped. We'd work 24/7 on it.
Jordan had wanted to be a professional motorcycle racer his whole life. He got back into motorcycle racing off road and riding Harley's on the street.
I remember thinking I could probably race a V-twin, which was when the whole Hooligan thing started.
The Hooligan race series features production V-twin motorcycles with 19-inch dirt-track wheels. When it comes to Hooligan racing, you can't modify the frame of the bike, but pretty much everything else is loose rules.
The bikes are so gnarly to ride. Some weigh over 450 lbs. It started on street tracks and grew from there.
Full race bikes are some of the most bitchin' looking two-wheel motorcycles you'll ever see.
Image
Jordan would race out in Nevada, then go get tattooed at Hart & Huntington in Las Vegas. His first ink there was a Black-and-Grey Indian Motorcycle logo on his shoulder.
We used Carey's burnout ink that they sell in the shop. It was the easiest thing ever, and everyone was so easy to talk to. I'd been to about 10 different tattoo shops over the years, but when I visited the H&H Vegas shop for the first time, it was a game-changer.
Image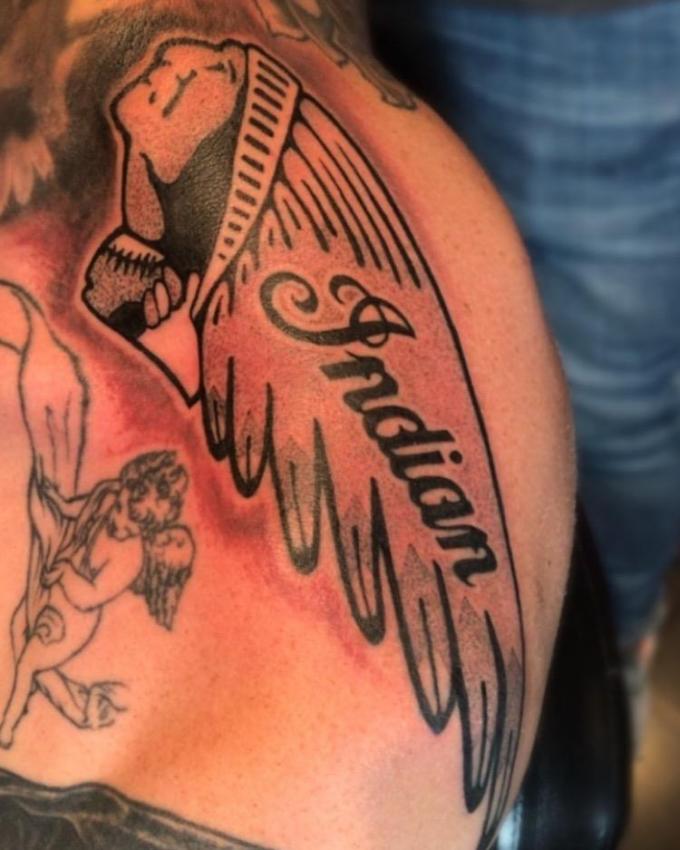 And he knew that from the moment he stepped foot in the door.
Vegas is a trip as it is, so when you walk into a good tattoo shop like H&H, you know the second you get in. There's no attitude, the vibe's always good unlike other shops. My wife has also been tattooed there quite a few times and also loves it.
He speaks from experience. Jordan's whole torso is filled with crazy, brightly colored ink. But his style has evolved over time.
That's what I love about tattoos. You can start out liking one style, then see something new and get that.
I'm big into Black-and-Grey now. The Black-and-Grey artwork over the past five years has blown everyone's mind. I come across so many artists that I'm like 'how is this even possible?'
He has a huge list of portraits he wants to get done, all of which are tributes to his family.
The most meaningful tattoo I have was done by H&H on the back of my neck: a dagger with a ribbon and roses around it with both my daughters' names. I was recently featured in an article for Bike EXIF magazine, and they used a photo of me from the back. I'm at the start line, totally focused. I was looking down, getting ready to race five minutes from the banner drop—and you can see that tattoo creeping out of my jersey. It's such a rad photo. It sounds cheesy, but it really brings a smile to my face. My kids get to watch my back every time I'm racing.
Image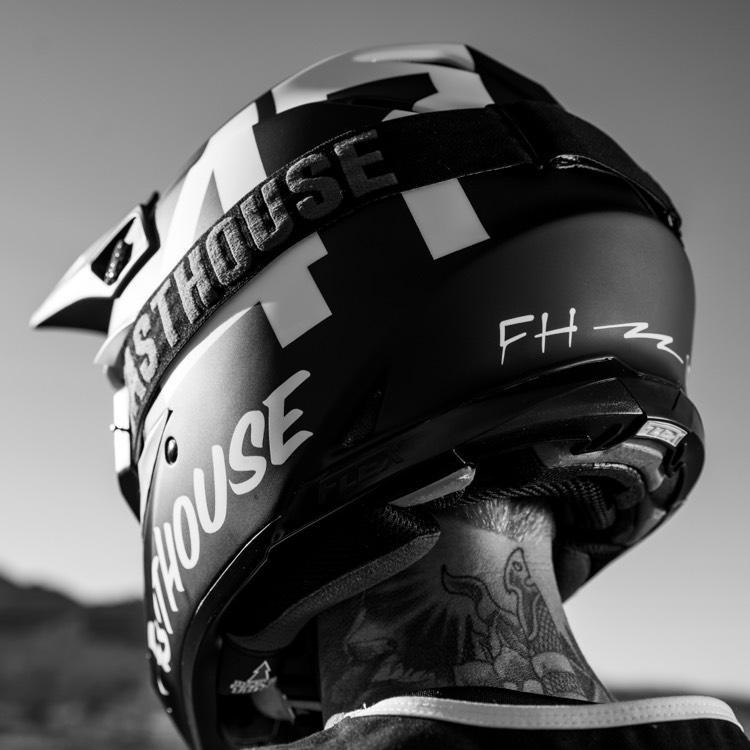 Getting inked has always been a meaningful experience for Jordan. And that's what he tells people who are considering getting tattooed for the first time.
If there's somebody in your life that's really important to you, get something for them, to commemorate someone you love or who's done something meaningful in your life. That's how my tattoos are, they all have meaning to me. To be able to have artwork all over me from many different people that come from different backgrounds, I think that's a special thing.
And it's about the experience, too.
I've never been tattooed by someone and sat there quietly throughout the process. You get to hear about the artist's life and share war stories. Three- to four-hour sessions can seem like two minutes. By the time you're done, you've made a friend. It's an intimate experience, something I think makes tattooing so special.
Jordan has sent many people to H&H in Vegas, but with these words of caution.
Just be prepared because once you get one, you'll want more. Once you get the itch, you're going to want to scratch it with a tattoo needle.
He'll be back in the Vegas shop before you know it, with plans to commemorate his grandpas who fought in two wars.
Everyone needs to go to H&H because it's the best place. Don't take a kitchen tattoo, go to the best shop there is. It's been around for a long time, and they have incredible artists for everybody no matter the style you want. You can't go wrong.
As for what's next on Jordan's racing schedule? He's now signed with Ducati and Fast House. He won the Mint 400 by 45 minutes over second place and has raced in events for the likes of Ozzy Osborne amongst other big names. The AMA has even put together a whole new series for him in 2021.
It's going to be a pretty bitchin' year.
And that's something you bet he's going to commemorate with some fresh ink.
Image