Mike Szudera has been dressing up as St. Nick since he retired from the military and his kids told him they were too old to go see Santa at the mall.
I bought myself a suit to keep the tradition going, and it kind of just grew from there. I really enjoy portraying Santa.
He got super into it, started researching ways to perfect his Santa act, and found a whole world of Santa Clauses out there.
Image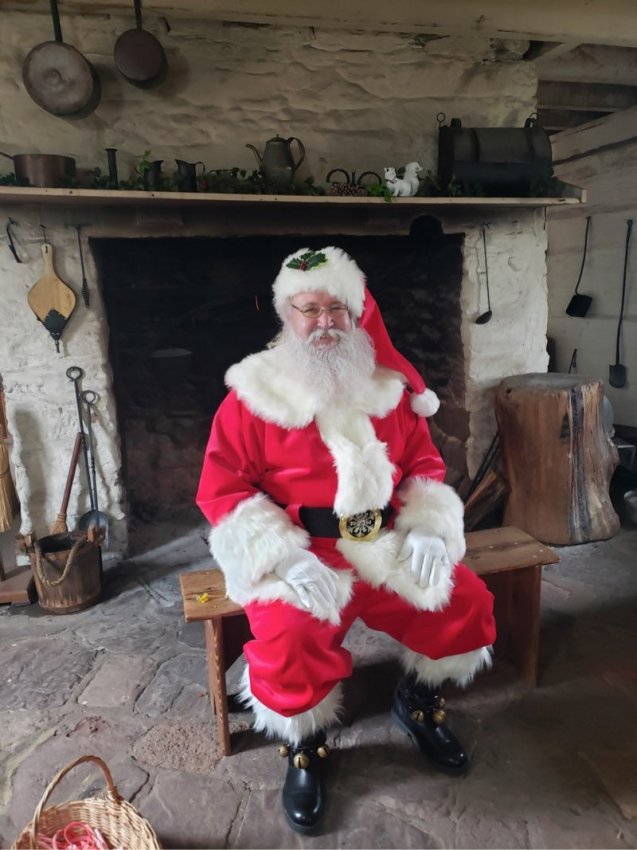 I even went to a Santa school in Las Vegas. Being Santa has made me a better person overall: I treat people better, I watch my language, and constantly ask myself, "What would Santa do?"
What better way to express your love for the jolliest guy around than by getting a tattoo of him?
I went to Hart & Huntington to get a Santa tattoo from tattoo artist Eric Alvino.
Mike found Eric after doing some extensive research for an artist that could pull off what he wanted.
I'd seen Inked and often go out to Las Vegas to visit family every year. I Googled "the best tattoo locations in Las Vegas" and H&H was in the top 10.
He was drawn specifically to Eric's style.
I'm not a guy that's going to jump at an artist. I did a ton of research on the type of tattoo I wanted and went through a lot of tattoo artist profiles.
Eric seemed like the perfect guy for the job.
Even before I went to the shop, I started coordinating with him and BJ, the manager there. They were really friendly and replied quickly to my questions. I was really impressed, and it drew me more to Hart & Huntington.
This wasn't Mike's first tattoo, though.
I got my first tattoo when I was 18 when I'd just joined the military. It was a small one on my back of Chester Cheetah. It was a little painful, but I was young and excited. After that, I knew I wanted another one, but held off for quite a while. I had to restrain myself because they're really addictive.
He has four total now, including a pumpkin tattoo on his left calf, which he got when he was really into Halloween.
I knew I wanted a Santa tattoo on my right leg, so I worked with Eric to offset the Halloween one I already had on the other side. Now I have Halloween on my left and Christmas on my right.
Mike sent Eric a few pictures ahead of time so he had a general idea of what he wanted.
I showed him some pictures of other Santa tattoos I liked, but what impressed me most was how he asked me to show him a picture of the Santa that I actually wanted.
Eric was able to take all of Mike's inspiration and create a custom Santa piece that was exactly—if not better than—what he wanted.
I wanted my Santa in the Traditional style and to wear holly on his hat, a symbol of the Holy Trinity. We worked on it together, and it was really impressive to watch him take different pictures and art and make it his own. Now I have a tattoo that's different from anyone else's, that he designed with my input so that it was specific to what I wanted.
And that Santa tattoo gets a lot of attention.
Image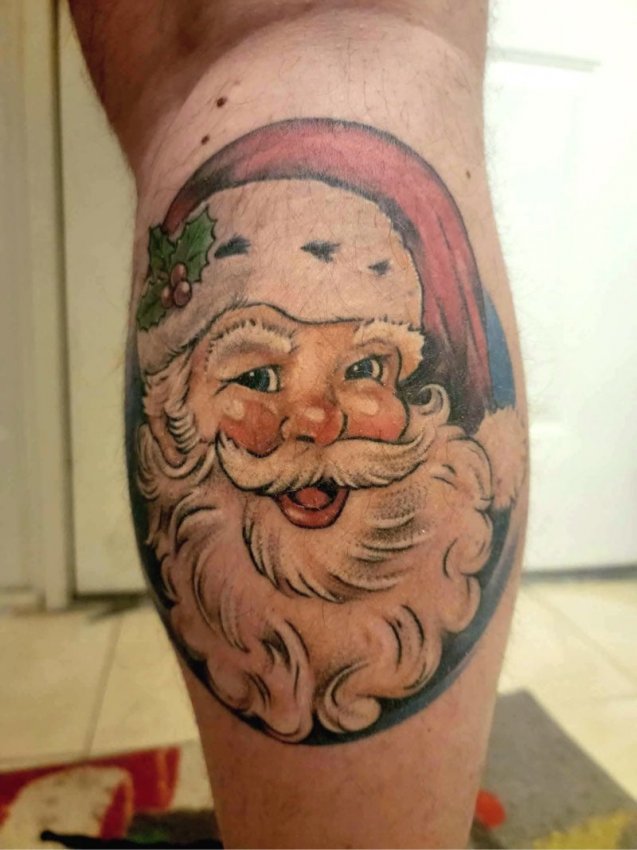 People notice it from a distance and recognize what it is right off the bat. I get a lot of comments on it, more than any other tattoo I have. This tattoo helps me express myself as Santa.
Mike sat for about five hours while Eric brought his Santa tribute to life.
He worked really hard on it and said he could have worked on it all day. It meant a lot to me that he was enjoying the process. It made me proud that I was getting something that he, as the artist, really liked.
It was such a great experience, that Mike has plans to expand the Christmas theme beyond his right calf.
Eric did such a great job blending the background with my Santa. I want to start doing more around it to build upon it.
Make no mistake though. Getting a tattoo can be daunting, especially if it's your first.
I'd tell someone getting their first tattoo to have an idea of what you want to have on yourself for the rest of your life before you walk into a shop. Be prepared to work with the artist—they know what they're doing so let them do what they're good at. My Santa tattoo is proof.
And when you are ready to walk into a tattoo shop...
Go to Hart & Huntington, and you'll have no worries at all.
They have great artists, especially Eric. He's an awesome tattooer and will take care of you. But the entire Las Vegas shop is great! Everyone is really friendly and talks to you to make sure you're comfortable. I really enjoyed the whole experience.