Our customers don't come to Hart & Huntington for a late-night, last-minute impulse purchase. They stop by for a thoughtful piece of art they can cherish forever.
Like Jon Montgomery, for example. He came to our shop in Las Vegas all the way from Ontario, Canada to get not one, but three tattoos.
Each one has a story. I love them all and couldn't be happier with them.
He was first introduced to tattoo art in high school by his uncle.
He's only six years older than me, so he's more like an older brother. He had some friends at the time who were tattoo artists, so I'd see them add to his collection and thought it was the coolest thing ever.
Jon was always artistic, even considered becoming a tattoo artist himself at one point. But his mom was pretty anti-ink so he held back out of respect for her.
From the day I saw my uncle's tattoos, I was hooked. I knew I wanted to get one someday.
Jon waited 'til college before getting his very first: a clock with smoke. And it didn't hurt as much as he thought it would, so he kept going from there. The more he added, the more he sought his own style.
I really like anything Trash Polka, super grungy like Black-and-Grey pin-ups, skulls, all the shading … it's a style that's bordering chaos, yet it all comes together in a gorgeous piece.
From the moment he saw H&H on Inked he knew he wanted to get a tattoo done at our shop in Vegas.
I knew I really wanted to get a tattoo from that place. So about five years ago for my birthday, I went to Vegas and popped my head in at the Hard Rock and introduced myself to BJ, the manager at H&H.
Jon showed him his tattoo on his side, a series of patches with room to fill. He was adding to it slowly at different tattoo shops on his travels.
I asked BJ if he had time to add a small piece and instantly he was like, "Yes, I have the perfect artist for you."
That's when Jon was introduced to Lacey.
She's the sweetest, most positive artist I've ever worked with. Nothing but welcoming. She and BJ made me feel like family. And her work is fantastic.
Image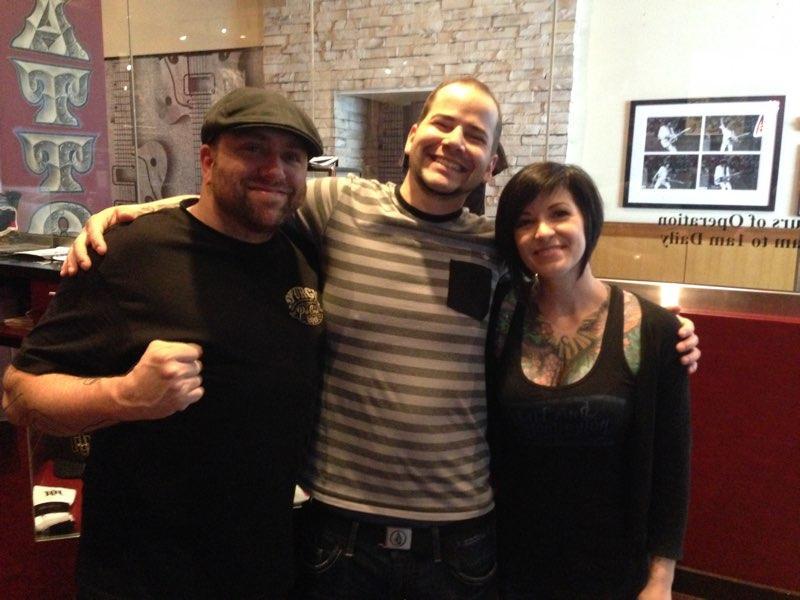 Jon now has three tattoos by Lacey. All three are his favorite.
They all still look super crisp and fresh. Her technique is outstanding, and she's always happy to execute my ideas. She's always just as excited about them as I am, which makes me feel really good.
One is a Wolfknives patch, a solid black piece with intricate details, which still hasn't bled out to this day. The second was a bird skeleton that Lacey added some color to, still just as vibrant as the day she did it three years ago. And the last was a poop emoji with nerd glasses, which Jon calls "Intelligent Turd."
When I told Lacey about that one, she laughed and was like "I get to do a poop emoji, are you kidding me? This is awesome!"
It was like that stigma Jon grew up with melted away with each visit to the shop.
I grew up going to church and being taught that tattoos were bad, that I'd be looked down upon for getting them. But when I showed my mom these pieces, she changed her mind. She was like "I actually kind of like them!"
Anyone who's gotten a tattoo knows they're contagious. Once you get one, you want more. But maybe what brings Jon back to our shop in H&H goes beyond that.
I tell anyone who's getting their first tattoo to make sure it's something they really want to have on their body for life, and to find a really great artist to do it for them. Someone who's good at the style they want. Tip them well for their hard work, too.
And I tell anyone who's going to Vegas to go to H&H. It's my favorite shop I've ever been to and can strongly recommend at least five artists there. You're always treated with respect. This is a really positive and talented group of people.
We're honored to have had Jon walk through our doors. And knowing that he still needs to finish a sleeve and some legwork, we can't wait to see him again.