Getting a tattoo is about creating a legacy. It's a piece of art, a mile marker of your history that you carry with you forever.
That's how we feel about ink at Hart & Huntington, and how Larry B. feels about his impressive collection.
A machine gunner in the Marine Corps infantry back in the early '90s, Larry got his first tattoo at just 16.
I looked older than I was, so I said I was 18 to get some flash art of Woody the Woodpecker holding a bottle of Jack Daniels on my right bicep. I lied to my mom and told her it was a stick-on but she eventually caught on. She still busts my chops to this day about it.
He's had it covered up since, but it was his first foray into tattoo art and one he doesn't regret. But his next choice was a lot more meaningful.
Image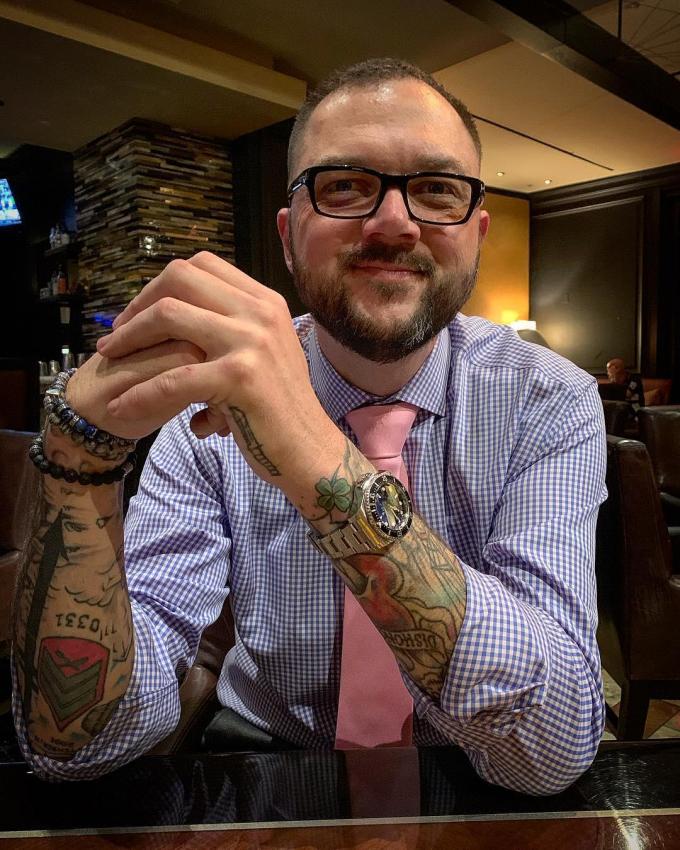 When I got out of boot camp, I really wanted something to commemorate the experience, so I got the Marine Corps logo tattooed. It was the first piece that really meant something to me.
Now he has two full sleeves, lots of legwork and even some comical tattoos on his big toes.
None of the artists I'd been to would tattoo my big toes. I had some really funny ideas, but they just weren't into it.
That all changed when he found Hart & Huntington.
I went to the Las Vegas shop and told BJ what I had in mind: a pink camel on my right big toe. Almost immediately he was like, "Camel toe, that's awesome. I'm in!"
Larry was in town with his wife, and they stopped in on their way back from a nice dinner to get it done.
It hurt so bad! My wife took pictures of me grimacing all well-dressed from our night out.
But that didn't stop him from getting another – a tow truck on his left toe.
When I wear flipflops, people see those tattoos and just start laughing. I love the fact that H&H is willing to go above and beyond, to do something comical and memorable like that for me.
Beyond showcasing his tongue-in-cheek sense of humor, his other tattoos have heart. One of his sleeves is filled with Sailor Jerry style art – old school work with a modern twist. The other commemorates his military experience and lost brothers in arms. Above his cuff on his wrist sits a small four-leaf clover: a nod to his 70% Irish heritage.
Image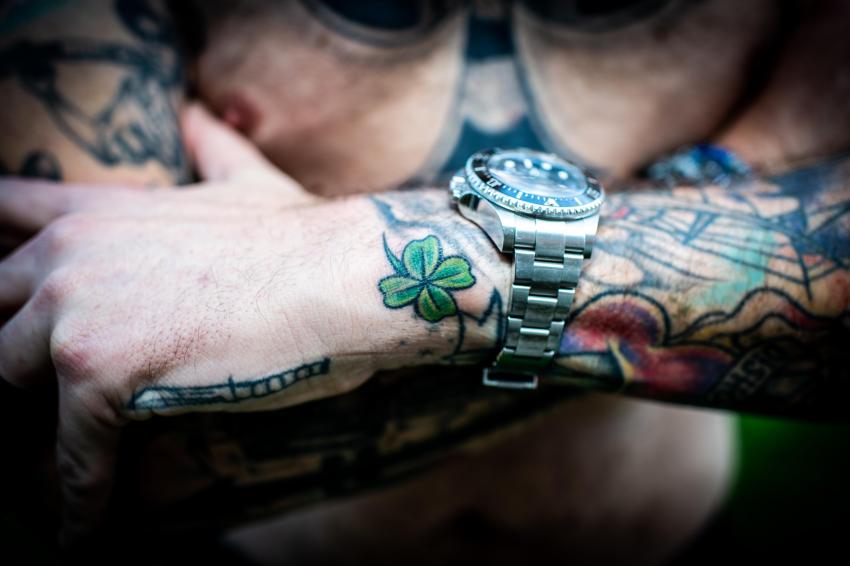 My chest is where I've been focused for the past five years, though. It's all Black-and-Grey with big, bold traditional lines and great shading. The only people who I've trusted with that work is Jeremy, Jaclyn, Lacey and Blanco at Hart & Huntington.
A photographer on the side, Larry has always had an eye for good work.
That's why I only go to Hart & Huntington now. They have the best artists in the business.
The first time he heard about H&H was from watching Inked, so when he went to Vegas for work, he already had plans to visit the shop.
And then when they opened in the Hard Rock Hotel, it became my go-to spot. My wife and I follow Motley Crue around the country, so we'd go see them play there and stop by the H&H shop while we were in town.
That's how he befriended H&H manager BJ and soon after, the rest of the crew.
They're like family. They take good care of us before we get out there, while we're there, and even once we leave. They follow up with us to make sure we're recovering well.
H&H treats all its customers that way, whether repeat or new.
Whenever I go into the Vegas shop, I love to sit and listen to people coming in who've never had tattoos done before. The ladies behind the counter are determined to pick the right artist for what they want to have done, how they want it to look, where they want it to be placed. You can fully trust them – and all the artists.
Nothing proves Larry's trust more than the fact that he comes in to have space filled without even knowing what he wants to have done.
I can call up BJ and tell him I've got a 6x8 inch slot open, that I'll be out there for work in a couple weeks. I'll book some time with one of the artists and give them free reign – just ask them to do something Black-and-Grey. I think the more you give the artist freedom, the better your piece will look.
Other times, he stops in when he finds a few spare hours on his calendar.
Last time, I stopped by spontaneously and they hooked me up with Lacey. I had a Black-and-Grey machine gunner's symbol tattooed in the middle of my chest piece, and I wanted to add two around it in the same style. And she absolutely nailed it. It matched perfectly with the parts tattooed before.
Image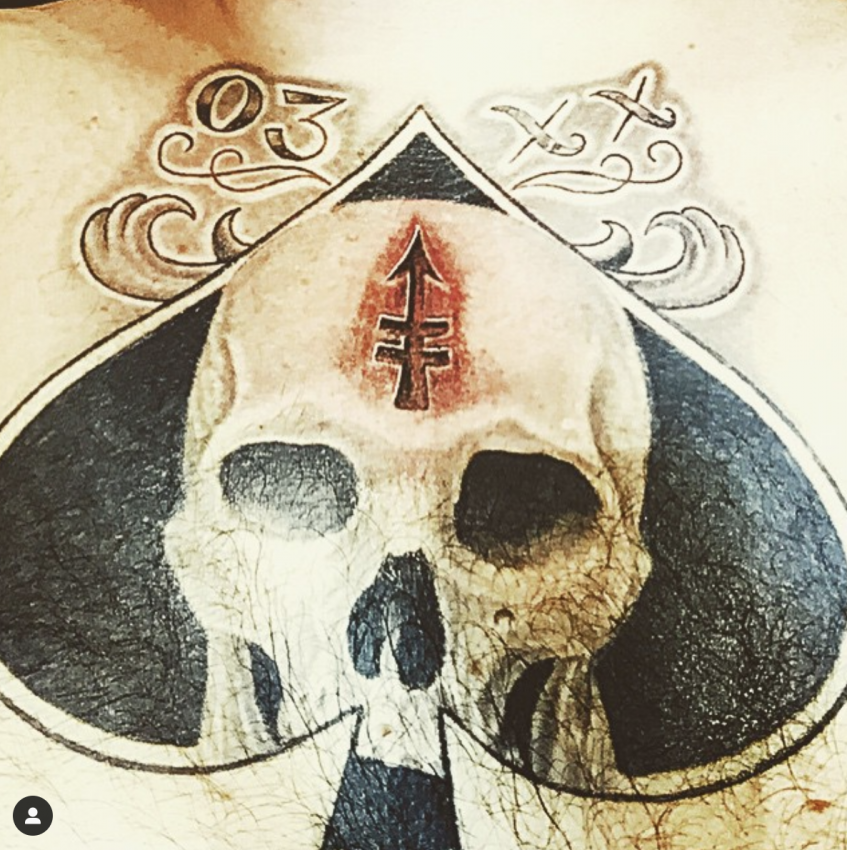 It's not surprising that Larry refers all his friends to H&H whenever they say they want some new ink done.
I had a friend who had never had a tattoo before. I took him to Vegas to see BJ and he put him at ease about the whole process.
His friend, a retired National Guard who toured in Iraq, always wanted to get his unit's crest tattooed. He'd remarked on Larry's tattoos over the years but was a little hesitant about getting some of his own.
We were sitting at the restaurant across from H&H in Vegas about six years ago. I took him over there after we finished eating. I was like, "Look man, you don't have to get a tattoo, but I want you to meet BJ and the artists here."
He did and, two days later, he sent Larry a picture of himself sitting in a tattoo chair getting his crest tattooed on his calf.
Now he goes back every six months to get more work done and sends me photos of what he's added. I fully believe that, because he went to Hart & Huntington and they took good care of him – drew what he wanted, adjusted it as he wanted it – that's why he goes back. If he went to a local shop that didn't have that kind of customer service, he wouldn't have gotten another tattoo.
Larry tells anyone who's getting their first tattoo to ensure they'll be well taken care of from both an artistry and customer service standpoint.
Ask questions like "How long does it take? Is it going to hurt? What's the recovery like?" Everyone at H&H will take the time to answer you completely, make sure you're comfortable. It's a safe, secure and sanitary environment where they'll take good care of you.
Now that his front's pretty much filled, Larry has his sights set on his back.
I've already got some time on the books with Lacey in December to start getting the outline done. Everything major I do, big additions, or even if I just want something fixed or perfected, H&H is the place to go.