The Spain & Fitz ESPN Radio host sat down with the Las Vegas Raiders' defensive end to talk shop while adding to their respective tattoo collections.
It was all Jason's idea. He's one of the biggest NFL fans you'll ever meet.
I was born and raised in Vegas and have always been a Raiders fan. I thought, why don't we do something different, an interview like never before? So I invited Maxx down to Hart & Huntington Las Vegas to have a moment with him and be a real super fan.
They sat in our chairs for about three hours and had a long conversation. If you've ever gotten a tattoo before, you know it's a sacred moment, a time when you get in touch with your inner self and commemorate it on the outside of your body.
I thought the best way to have a real conversation with Maxx was to take our minds off having a traditional interview and have a real bonding moment.
Jason's previous tattoo experiences have always been calculated.
The decision to get tattooed was a very thought-out process for me. I'm pretty logical in everything I do.
He took his time selecting a tattoo artist he was happy with before a needle ever touched his skin.
I knew I wanted to appreciate my life's journey in some way. I decided on a skyline on my right arm of all the moment I'm proudest of in my life. I took years to find someone to conceptualize the idea and apply vibrant color in a way I connected to. I wanted to get it right, not fast.
The wait was worth it. Jason's sleeve is colorful, eclectic and thoughtful. A work of art that's more than just eye-catching—it's also meaningful.
I knew I wanted to get a half sleeve for my first tattoo, something colorful and cartoonish that's true to my personality and makes people smile. I did the outline in one day and the color the following. I joke that moderation isn't a word I know. I went from no tattoos to a full-color half sleeve in 48 hours.
Most people who get their first tattoos don't start by filling half a limb. But Jason has no regrets.
If I went with something small it would have been easy to say, "This hurts, I want to stop." You have to make a commitment to yourself each time you get tattooed. That way you always walk away with something beautiful.
He definitely succeeded. Jason's skyline is populated with some incredible accomplishments: his time living in Nashville, Vegas, New York, Chicago and D.C. Neon signs of his contributions to the American Music Awards, Grammys, Olympics, and more.
I'd always been tattooed by the same artist until I went to Hart & Huntington with Maxx. I've been a Pink fan for a long time and stopped by the Hart & Huntington in Nashville when I was last in town for the 2019 NFL Draft.
He knew the next addition to his skyline would commemorate that time.
I wanted to add the NFL Draft logo. It's my favorite sporting event of the year. But I'd only ever been tattooed by the same artist.
When he met Hart & Huntington Las Vegas tattoo artist Lacey, any hesitation of working with someone else went out the window.
Image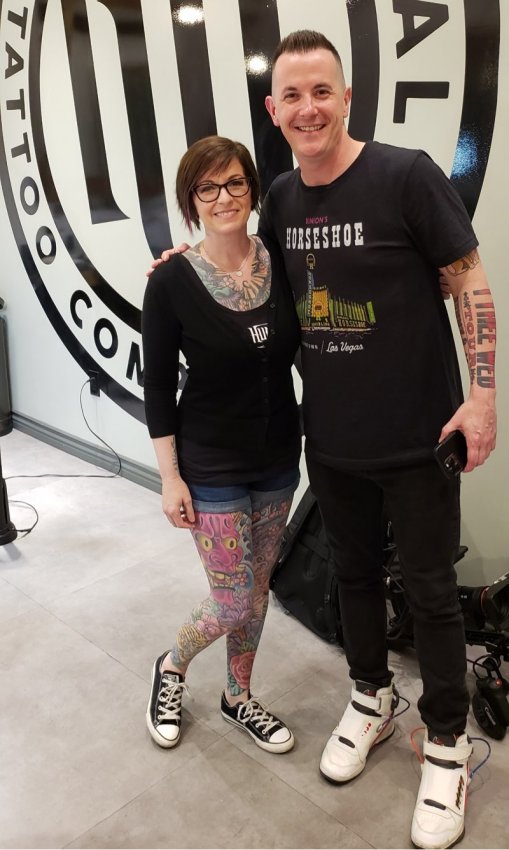 Lacey is an incredibly kind, beautiful soul who does beautiful work. I told her I wanted to add the Draft Logo to the inside of my bicep where there's some open real estate. It's a challenging spot to work in.
Lacey created multiple sketches for Jason to review, gave recommendations for angling and how to position the new piece.
It was a little higher than I thought it needed to go, but I trusted her because she's the expert and she was a million percent right. It was a seamless part of the work I had done in the past. Working with her opened my mind and freed me from thinking I can only have one artist work on me.
Image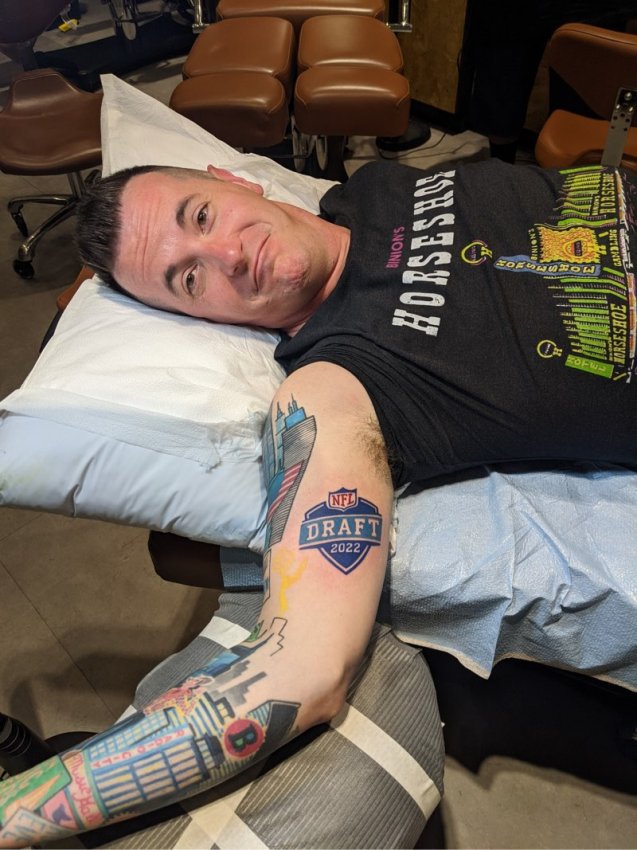 Jason's first experience in a tattoo parlor was stereotypically seedy and rough.
I remember looking at my tattoo artist and saying "Am I going to be ok? Is this place safe and healthy?" Hart & Huntington is the opposite of that.
It's so bright and alive. Everyone has an aura of kindness to them and made me feel welcome from the get-go.
In all honesty, Jason was straight up nervous going to a new place and working with a different tattoo artist.
But Hart & Huntington's Las Vegas shop struck me. I was genuinely stunned at how nice, clean and well-kept it was. All the artists cared about the tattoos they were working on. Even the woman behind the register was so kind. It's like the best of Las Vegas: everything is beautiful, colorful and clean. Everyone is focused on making it a great experience from the moment you walk in.
All of that allowed Jason to feel secure in his decision.
I didn't expect to feel as comfortable because it's a tattoo shop in Caesar's Forum. One of my concerns was that I'd be like a circus monkey for the world to look at while I was getting tattooed. But the way the shop is set up doesn't allow for that. You're positioned so you have privacy. There was never a weird moment of me interfering with anyone else's experience or have people staring at you while you're in this truly intimate tattoo moment.
While Lacey worked on Jason, Hart & Huntington Las Vegas tattoo artist Carlos worked on Maxx.
Image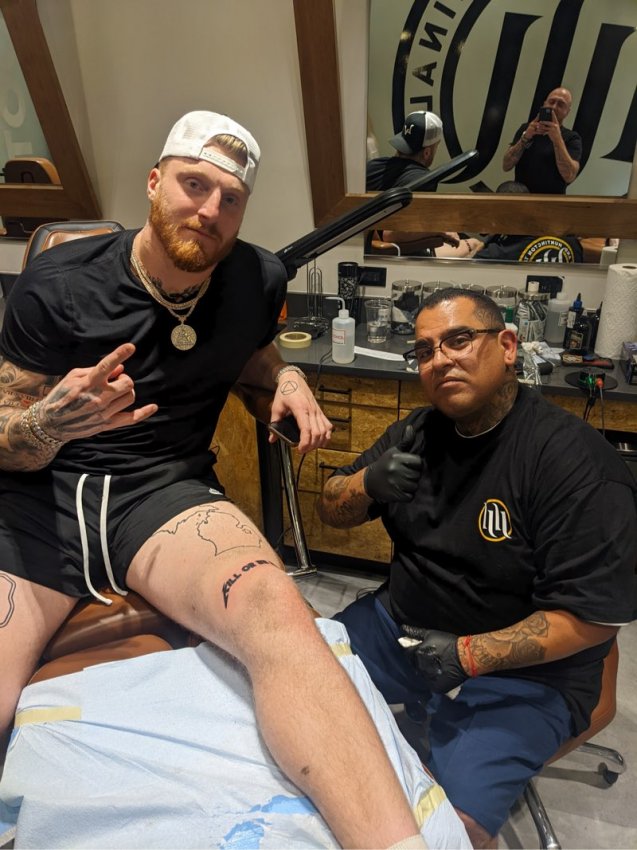 Lacey and Carlos joined the conversation with us. They laughed with us like we were having a family dinner. When Lacey hit a sensitive spot, I let out a word we had to edit out of the broadcast. About a minute later, she quietly whispered to me 'You're doing ok." I thought it was so cool she checked in on me in a way that felt so comforting.
Image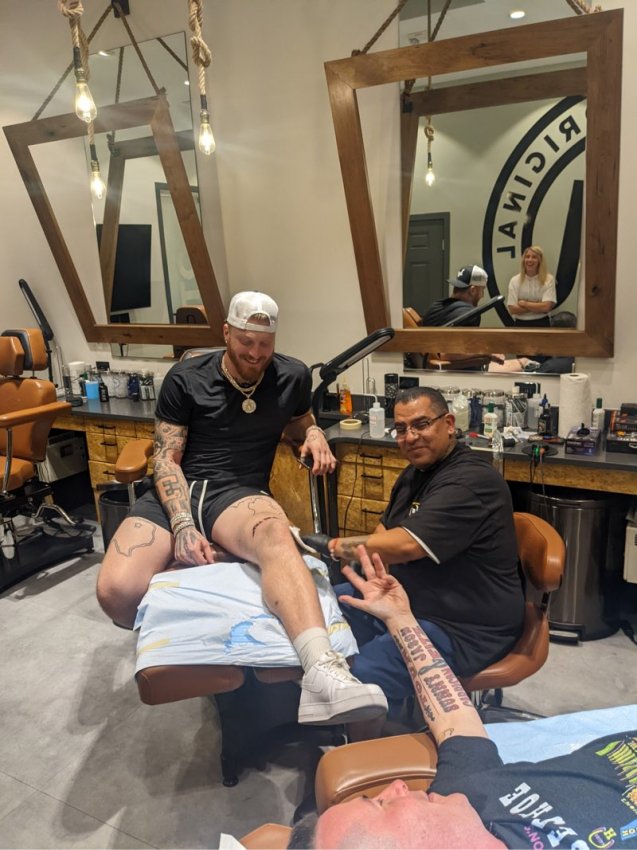 Maxx let out an expletive a couple minutes later, and that yielded a collective sigh from everyone.
Being a little vulnerable, being human, is part of the tattoo process. The four of us were in this experience together, not just me and Maxx.
Through it all, Jason and Maxx were able to have a great conversation, one with substance and depth.
I asked Maxx if he could invent a time machine and go back to talk with every team that passed on him in the Draft, what would he say? He said he thought he was drafted exactly where he should have been. That he wasn't ready before then and needed the opportunity to be insulated as he grew. For a lot of us, there's a real lesson in knowing where you are today doesn't have to define where you'll be in years to come.
When they were done, Lacey and Carlos gave Maxx and Jason detailed aftercare instructions to speed up the healing process.
They gave us this new tape that I'd never used before. Five days later it was the best tattoo I've had.
And it most certainly won't be the last. Jason plans to come back to Hart & Huntington Las Vegas to add to his skyline.
I want to find ways to represent more passions in my life. Having someone you feel is on your side on that journey is super important.
The team at Hart & Huntington have his back.
I was blown away by the experience here. When I got tattoos, I knew I'd be making a statement, but I didn't realize I'd get asked about them every day. I want to make sure what I'm representing isn't just great for me but a way for people to ask me what I've done and how I've approached it. When I take my kids to school and the other kids ask me about my tattoos, I tell them if I'd done this 10-15 years ago, I wouldn't love it as much. You've got to know what you want.
Image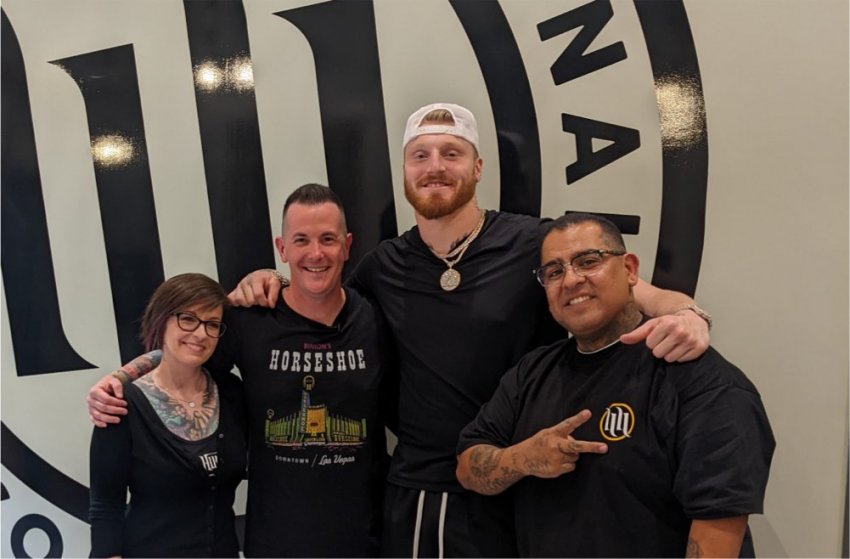 That's what he tells anyone thinking about getting their first tattoo.
Take your time. Think. Be sure. You'll never regret waiting a little longer to get it right. And know that your tattoo is always going to be a little bigger than you think. The best work requires the tattoo artist who's courageous enough to go bigger to ensure it doesn't bleed together.
There's a whole shop full of courageous artists here at Hart & Huntington Las Vegas.
I'd plan a trip to Vegas purely to get a tattoo at Hart & Huntington. It was that great.