That's how Hart & Huntington customer Charles Caperton felt when he got his first ink just two days before he turned 50.
A Florida native, he enlisted in the military right after high school and sailed with the Navy until 2007. He'd seen so many guys with tattoos during his tours of duty—his kids even had them— but never considered getting any of his own until later in life after he met and married his wife.
We got married in 2015 in Vegas right in front of the Las Vegas sign by the guy who married Billy Bob Thornton and Angelina Jolie.
My wife is the better part of everything I am and makes me want to be a better human.
What better way to commemorate that than by getting a tattoo? He'd made it nearly 20 years in the Navy without getting a single one, but was fascinated by the art.
We were in front of Hard Rock and I saw the Hart & Huntington shop. I decided then and there that I wanted to get her name tattooed across my chest close to my heart, plus the coordinates of where we got married and the year in roman numerals.
There's a long history between tattoos and sailors. Charles had always admired the traditional Sailor Jerry style from WWII and remained popular during Korea and Vietnam.
I love the old nautical style, the flash art. You know, the anchors and heart with "Mom" written across it in a banner. It's so old school and classic. And it's making a resurgence now. It's truly timeless.
His chest piece is in that same style.
It's like jazz. If you pick up a Stan Getz record and listen to it now, you can still appreciate it today.
He sat down with Hart & Huntington tattoo artist Lacey after taking a look at her work ahead of time.
It was just amazing. She's a great artist and knew exactly how to make my tattoo perfect. She made some great recommendations and sized it right, and was so kind and professional throughout the whole process. It was very simple and smooth. She talked to me the entire time and was very personable. Just top notch.
Charles had seen Hart & Huntington on Inked, so walking into the Las Vegas shop had him starstruck.
I had this nervous, excited pent-up energy when I went in there to get my first tattoo. You know, like what's this gonna be like? I'm sitting there, and I look over and see Hart & Huntington tattoo artist Mike Roche. I was like, holy crap! This is awesome. I got a picture with him and everything.
Image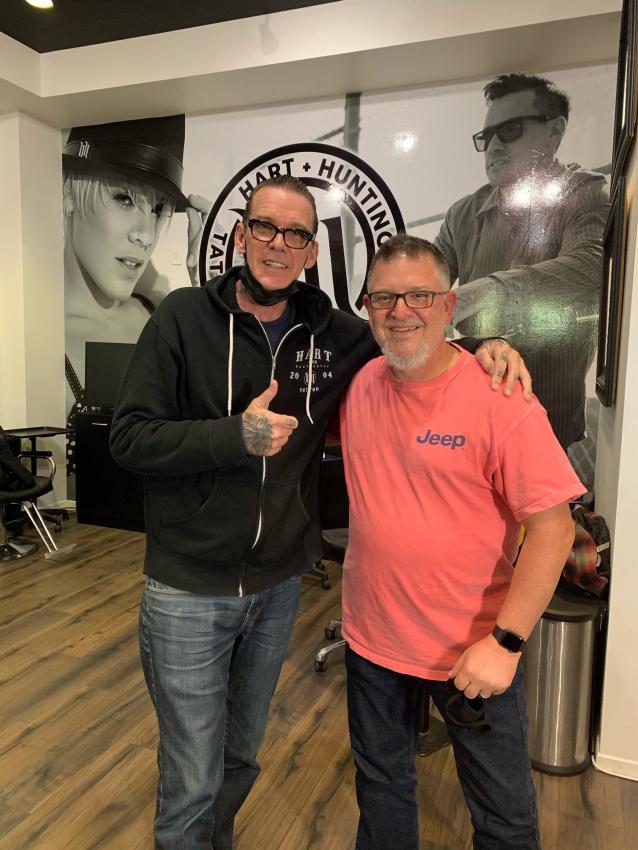 The whole experience was better than he anticipated.
The shop was immaculate and clean. And it wasn't painful as I'd expected. Since I was getting tattooed on my chest, I'd have to hold my breath when Lacey was ready to use the needle, but she talked to me the whole time. It was just easy.
I'm an H&H customer for life now. I won't get a tattoo by any other organization—ever.
Image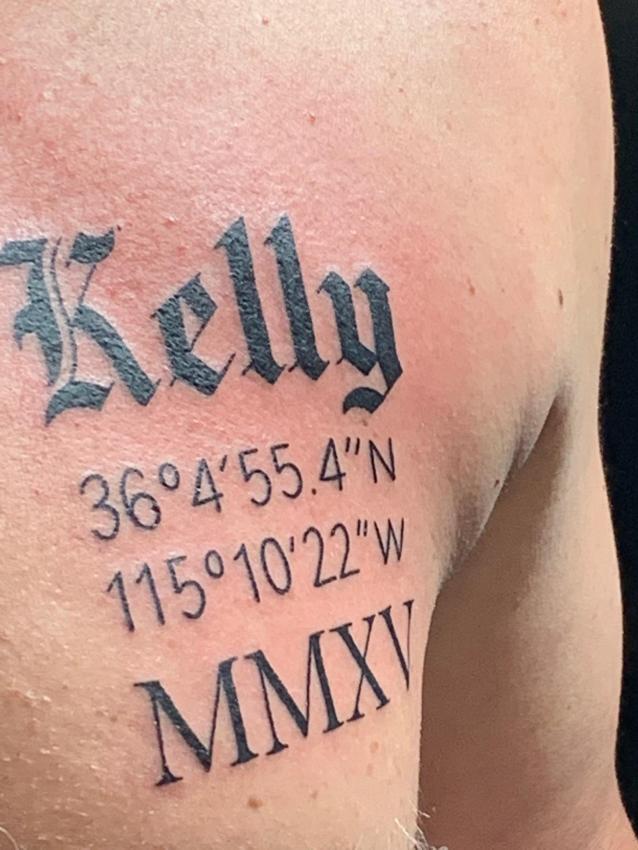 People told him that once he got his first tattoo, he'd be addicted. And they were right.
Now my goal is to have my arm completely covered, and I want Lacey to do it for me. She's an excellent artist. I know I can tell her what I want, and she'll bring it to life and make it look great.
Charles has plans for another tribute to his wife.
I call her my angel, so I want one tattooed on my arm with a compass to represent both how I've traveled the world and been in every direction—good and bad—but she always brings me back to center.
As someone who waited 'til much later in life than most people to get their first tattoo, Charles offers this piece of advice:
Go to Hart & Huntington for your tattoo. I just can't say enough about how much I enjoyed the whole experience there; not just getting a tattoo but being in the shop and being around such talented people.
There's a great energy in there and you know you're getting the best.