Being humble down to the boots is the only way to be.
Tattooing is much more than just the foundation you lay down when you first emerge from an apprenticeship. It's about developing a relationship with your clients and team. You're not the star quarterback, you're a team player. At the end of the day, we're just dirty old tattoo artists doing our artwork. And that's just how it should be.
Damien has been tattooing for more than a few decades now—and he's wicked good at it.
His Hyper- and Photo-Realism pieces turn heads around the world, including in Australia where he's from. There, he's got a shop with a talented team of artists on staff that he can learn from.
I've employed people that have a lot more knowledge and understanding of tattooing than I do. Even though my name is on the lease and business, I still consider myself a protégé to the guys I have working for me.
Damien doesn't consider himself the boss.
Hiring people that know more and are better than you helps you learn.
A student for life, Damien has always had a passion for art of all kinds. His earliest recollection of doing anything creative was back in kindergarten.
I liked drawing sharks and trying to put their fins in perspective. It really evolved from there.
He won his first art prize when he was 12 years old for painting a pirate ship and conquered most art forms before he ever picked up a tattoo needle. From charcoal and graphite pencil to acrylics and sculpting, you name it: Damien's mastered it.
Once I started tattooing, I fell in love with it and didn't want to change my medium again.
He was 30 when that happened. Damien's father was both a traditional and tattoo artist as well. When he retired, he gave Damien all his equipment.
I set up at home, went down to a local shop, showed my portfolio and got a start.
He landed an apprenticeship in Queensland where he fine-tuned his knowledge.
If you're a multi-medium artist and you're doing education beyond secondary school, a tattoo machine is just another medium to learn. For me, to pick up a tattoo machine and figure it out was relatively easy, but mastering the industry was different. I wanted to do it the noble and right way.
And that meant challenging himself at every opportunity.
Image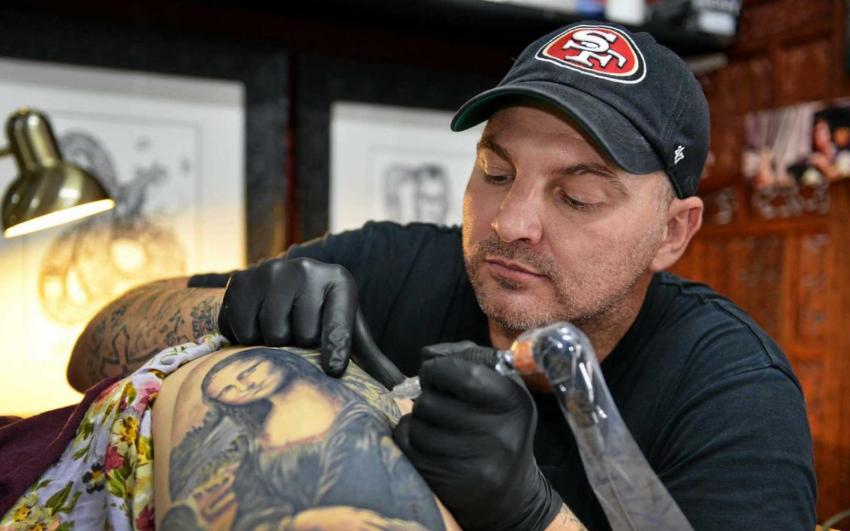 I didn't want to start with something small like a little infinity symbol. I wanted to do the most difficult piece put in front of me every day from day one, and that meant trying my hand at real Black-and- Grey.
He worked Monday through Friday putting up temporary fencing to pay the bills, then spend all weekend at the tattoo shop getting really good at the craft. He developed a love for portraiture and still life pieces.
I decided I wanted to make tattooing my full-time career. There was a saturation of tattoo shops in the area, so I waited for one to become available. I bought it, sold my fencing business, held my breath and jumped in.
Since then, he's opened three tattoo shops and even ran an invitation-only tattoo convention for which he sculpted his own trophies.
Although tattooing is his main creative outlet these days, Damien still finds time to paint. Even in lockdown.
I did a few still life oil paintings that give a view of the loneliness some people have felt during the pandemic. I'm love how they turned out. I'm very proud of them.
Practice makes perfect and, to him, there's no excuse to stop trying new things and learning new skills.
I like to replicate stuff most tattoo artists don't do because they find it challenging, like 16th and 17th century artwork. It's a passion of mine to study. I also like doing fully complicated stuff, anything with a massive degree of difficulty: color portraits of loved ones, in-depth fantasy art...anything you take from a photo and replicate it perfectly onto the skin.
To do good work, you have to use good tools.
It's all about fine-tuning to find the right things that work better for you as the artist. Never be afraid to try something.
Image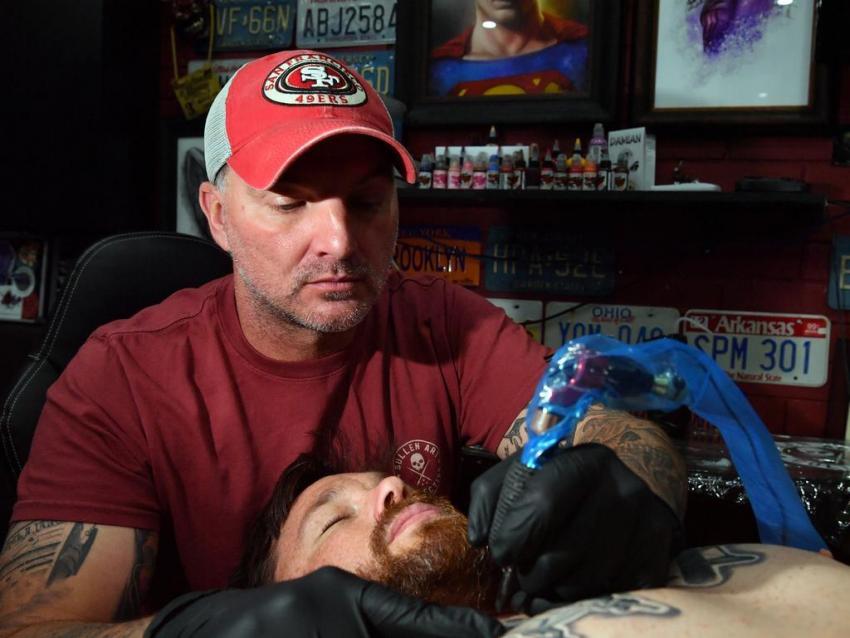 I used to have an array of different inks from different companies, but now I only use World Famous Tattoo Ink because it's so good and easy to use. And I'm not just saying because they sponsor me.
Damien's portfolio is nothing short of impressive. Each piece represents a unique moment in his career.
One of the most memorable tattoos I've ever done was for a guy whose brother, a police officer, had passed away.
He wanted to get a color portrait in his memory but had some reservations.
He had no tattoos at all, so I was like "Put your trust in me."
The portrait turned out so great that Damien's client burst into tears upon seeing the finished piece.
This guy was in his late 50s, a man's man, so it was totally unexpected. His other family members came in teary-eyed to thank me for doing a good job later, too.
Like all the artists at Hart & Huntington, tattooing is more than just a job.
If I could do this for free, I would. If we didn't need money to live, I could quite easily do this job all day every day. I'm living my dream. I just want to be remembered as a good bloke who can draw.