How much a tattoo costs depends on a lot of things, but primarily, it's about where you're getting it and who you're getting it from.
If you walk into a random Las Vegas street shop and pay a scratcher for a $50 piece, odds are it's not going to be a safe, sanitary environment (or a particularly welcoming one at that). You'll likely be choosing from a book of flash art—nothing custom—and you'll leave with a stenciled-on piece likely to blow out over time.
Hart & Huntington Las Vegas is a high-end Las Vegas tattoo shop with the most talented artists in town. More than that, it's a caring, inviting spot where you're guaranteed to get top-quality work no matter what you come in for.
We price our tattoos fairly and transparently, taking a several things into consideration before we ever put needle to skin. You'll know exactly how much we're charging you before you take a seat in our chair— and you'll most certainly get your money's worth.
Here's exactly what you're paying for when you choose Hart & Huntington Las Vegas to do your ink (spoiler alert: it's so much more than just the tattoo you'll leave with).
Custom Art by Experienced Tattoo Artists
First and foremost, you're paying for a beautiful tattoo done by the best tattoo artists in Las Vegas. Our people are true artists who have honed their craft (on skin and paper) and consider tattooing the true artform that it is.
We'll sit down with you to get a deep understanding of what you'd like, freehand sketch options for you to choose from, make edits until it's perfect, and then spend the time applying it—no more and no less than what's needed to get the job done right.
Generally speaking, the bigger and more complex your tattoo design is, the more time and money it'll take to complete it.
"Bigger is usually more expensive because it takes more hours, more ink and more expertise to pull it off."
Damien Wickham, Hart & Huntington Las Vegas tattoo artist
But not always.
A tiny, detailed portrait of a cat is going to cost more than a big tattoo that's just a simple outline.
Eric Alvino, Hart & Huntington Las Vegas tattoo artist
A Black & Gray tattoo, which only requires one ink color, is likely going to be cheaper than a tattoo that requires 20 different colored inks.
Your Hart & Huntington tattoo artist will map out all the options available so you can decide what's right for you based on your budget.
A One-of-a-Kind Experience
This isn't your average tattoo parlor. You won't find us in a seedy strip mall off the main drag. We're located within the world-renowned Forum Shops at Caesars Palace among other high-end stores.
That's because our Las Vegas tattoo shop is clean, comfortable and most importantly, welcoming. Not to mention, it's backed by our legendary founder, Carey Hart.
We provide an experience most street shops don't offer. It's not intimidating or sketchy. You can walk in off the street and ask for a half sleeve here. We'll do it right then and there because of our knowledge and experience.
Eric Alvino, Hart & Huntington Las Vegas tattoo artist
Our people are just as considerate and friendly as they are talented. This is a place where anyone from anywhere can feel at home getting some ink.
Skills, Safety & Stellar Service
When you choose to get your tattoo in our shop, you're also paying to work with a team of professionals who will treat you with the respect you deserve and keep you informed on our entire tattoo process, from consult to clean-up.
Will your color fade? Will it hurt more if you place it on certain body parts? We'll tell it to you straight. You won't get that at a street shop in a strip mall.
Damien Wickham, Hart & Huntington Las Vegas tattoo artist
Image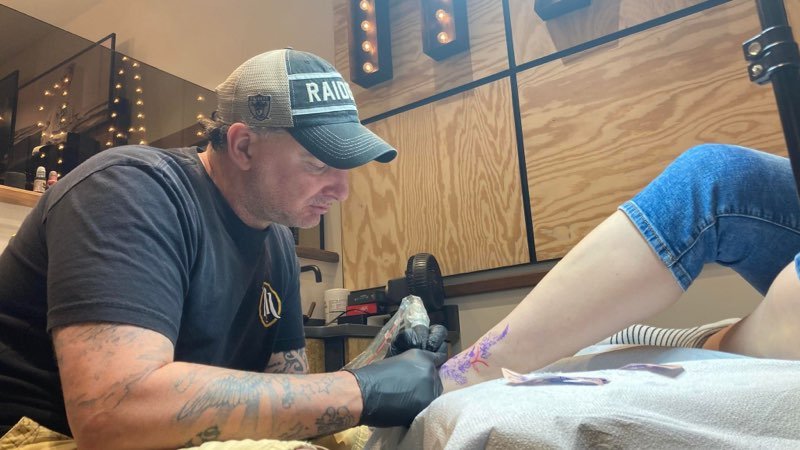 Our tattoo artists have put in the hours to master the art of tattooing, including how to maintain high standards when it comes to sterilization practices.
I put myself through years of learning. I'm a true professional. When it comes to everything from safety to the final product, I know you have to be happy with everything. When you work with me, you're paying for the customer service and quality of work I'm putting out.
Damien Wickham, Hart & Huntington Las Vegas tattoo artist
That service doesn't end when you walk out the door, either. We ensure you leave with the best aftercare supplies, confident knowing how to care for your new tattoo as it heals.
We always do a follow-up call or text on big pieces. There's nothing better than having an artist caring enough to call to see how you're doing.
Damien Wickham, Hart & Huntington Las Vegas tattoo artist
We charge for exactly what we put into our creations: the time, talent and effort—and we strive to be as fair as possible in determining a number.
Just like any other product or service you'd purchase; tattoo pricing all comes down to the choices you make. You decide what you want to buy. You call the shots.
At the end of the day, what makes a tattoo most valuable is what it means to you.